Cleaning up ports:
from Oslo to California
From underwater drones in Norway to an Australian-designed floating rubbish bin, tech companies and port authorities are increasingly linking up to clean up waterways and tackle air pollution.
Patrick Kingsland

profiles the most pioneering projects and asks what role local communities play in creating change
Its head and flipper
can be seen trapped in a tatty blue plastic bag, its skin lacerated, discoloured and bloody. On Twitter, the gory photo of a dead, beached dolphin elicited a furious response: "Criminal behaviour," said one user; "the oceans can't wait much longer," said another.
The viral image - taken last year by a marine biologist on a litter-strewn shore in Oslo - sent social media in Norway into a frenzy, igniting a wider public conversation about the water and air pollution that environmentalists had warned about for years.
Shortly after the picture was taken - and partly because of it - Oslo's Port Authority approved a pioneering new litter-removal plan. The clean-up operation involves underwater drones that scan water for trash such as fishing gear, cage traps, tires, bikes and cars before divers or electric-powered ships swoop in to remove them.
Trash-eating drones and floating rubbish bins
The Oslo operation is among a number of clean-up projects involving ports that are designed to tackle pollution in underwater areas - a growing problem caused by a range of factors, from the transfer of alien species through ballast water, to the dumping of waste and release of oils and chemicals through accidental spills.
"There are a lot of ports out there that are trying to look at innovative ways to clean up the waters," says Elena Craft, senior health scientist at the Environmental Defense Fund (EDF), a US-based non-profit environmental advocacy group.
Last year the University of Maryland, Maryland Port Administration and the Maritime Administration of the US Department of Transportation announced plans to build a water treatment system that uses algae to remove excess nutrients from the water and create renewable energy in the process.
There are a lot of ports out there that are trying to look at innovative ways to clean up the waters
"We are cleaning up the bay, improving water and air quality, reducing pollution, and creating renewable energy using innovative green technologies for the port all at once," said Stephanie Lansing, an associate professor at the University of Maryland in a press release.
In September 2016, the Dutch technology company RanMarine began using aquatic drones to help clean up Rotterdam Port, the largest in Europe. One of its drones - known as the "WasteShark" - is as a big as a passenger car and has an 'open mouth' that can gobble up as much as 500kg of waste from the water.
The device is similar in some respect to the SeaBin, a popular floating rubbish bin used in marinas, docks, yacht clubs and commercial ports to suck up floating trash into a catch bag. Designed by a pair of Australian surfing enthusiasts, SeaBins are now in use at marinas around the world and have been described by The Guardian as a "debris-sucking saviour of the oceans".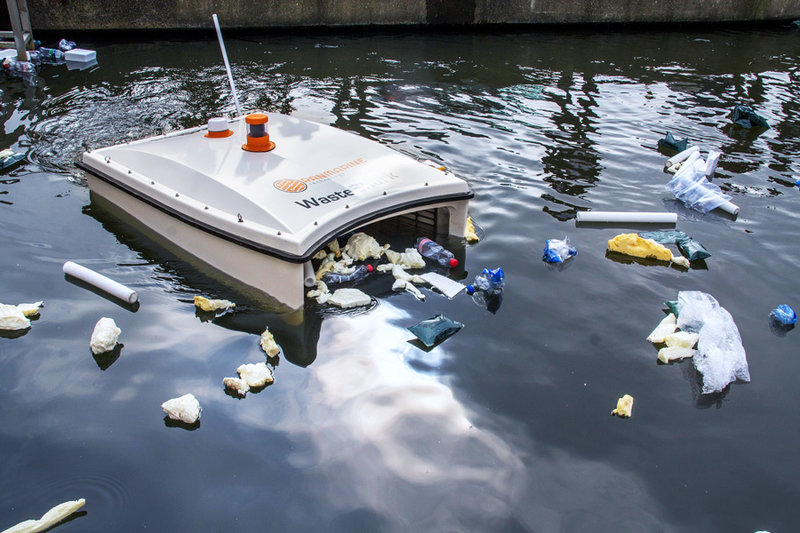 Of course cleaning up a port involves a lot more than removing the debris that lies underneath the water's surface. Greenhouse gas emissions from shipping currently represent around 2.6% of total global emissions - a number that could triple by 2050 according to the International Transport Forum.
For the billions of people that live in coastal areas and close to ports, these emissions present a major daily health hazard.
"Ports are a hotspot of pollution," says Craft. "They are hubs for all kinds of different sectors: the shipping sector, the trucking sector and the rail sector. You have lots and lots of different sources of air pollution coming together in this one place."
Ports are a hotspot of pollution
Here again, technology is playing a leading role in tackling emissions at ports and beyond. Hydrogen fuel cells - an eco-friendly technology which combines hydrogen and oxygen to produce electricity - are being considered by a growing number of shipping owners and tech leaders.
Ports are also showing increased interest in the electrification of their yard equipment. Marine analysts say running ships on electric shore power, for example, has the potential to massively decrease emissions and improve local air quality.
As well as reducing pollution from ships, Craft says ports must also look at addressing trucking emissions.
"In the US around one third of all truck trips are empty," she says. "This means you have trucks driving around with nothing in them. Now we are seeing software programmes and technologies that enable trucks to pick up exports, drive to the port and then pick up imports to avoid wasted trips."
But while the technology is improving, getting ports to address environmental issues remains a challenge. None of the sectors that use port facilities such as trucking, shipping and rail are managed or operated collectively, meaning "you have lots of different players involved, some of whom are talking to the others and some of them aren't," Craft says.
"In terms of coordinating a universal effort to address emissions holistically, you end up with a lot of piecemeal efforts," she adds.
Many ports are unwilling to even accept the premise that they are responsible for emissions caused by other sectors: "Talk to some ports and they will say we don't own these trucks," says Craft. "Part of it is a mindset on the part of the ports in terms of how they see themselves."
Even as emissions across other sectors go down, in the shipping sector emissions are projected to go up
With many ports unwilling to act on their own to address pollution, the involvement of local communities is key.
"That is what drove ports in California to address pollution there. The fact that they were actually sued by a community. I would say they have probably been the best-organised in terms of communities that have engaged with ports, but there have been other smaller-scale examples."
Whether local communities are trying to reduce pollution in the water around a port or improve air quality, the struggle is likely to continue as the global shipping industry grows.
"Even as emissions across other sectors go down, in the shipping sector emissions are projected to go up," says Craft.