Drones in the deep: new applicati ons for maritime UAVs
In September 2017, online portal drone major group was launched to support the use of unmanned aerial vehicles, or drones. In light of the launch, Heidi Vella explores new drone technologies and projects for the maritime sector
In the maritime
environment, drones can be used for security, environmental surveillance, to supply vessels with spare parts, for emergency missions, such as search and rescue, as well as for ship and cargo inspection.
Yet, despite the many use cases, the technology does face some challenges, such as limited battery life and difficulty operating in poor weather. But original equipment manufacturers and major shippers are keen to improve the technology further and extend the reach and scope of what can be done with drones. Furthermore, the increasing use of drones is supported by regulators such as the European Maritime Safety Agen cy (EMSA).
New projects, investment and innovation promise to grow this technology, which was valued globally at over $127bn in the commercial sectors alone by PwC in 2016.
Drone above the sea. Image courtesy of Alfafoto / Shutterstock.com
EMSA's record breaking contract
In early 2017, the EMSA issued the largest ever civilian maritime drone contact, valued at €67m, cementing the ubiquitous use of drones in European waters.
Under the contract, drones are used to assist with border control, search and rescue operations and monitoring of pollution, as well as the detection of illegal fishing and drug and people trafficking.
The investment is part the EMSA's five-year strategy of improving coastguard monitoring and surveillance of maritime activity.
As part of the contract, Martek Marine was issued a two-year Remotely Piloted Aircraft Services (RPAS) contract to pilot long-range antennae, mission control vehicles and ground crew. The work involves streaming video and drone sensor data live to a control centre, to allow European Union (EU) Member States to make prompt decisions on intervention actions.
Drones are used to assist with border control, search and rescue operations
Continous text if PQ is visible - Right
Martek Marine's new aviation division
In November 2017, Martek Marine announced the launch of a new aviation division dedicated to drone operations. The long-standing British company wants to pioneer "unmanned maritime aviation services".
Under the aviation division, the company will provide complete service solutions for maritime applications such as intelligence, surveillance, and reconnaissance (ISR), search and rescue, illegal pollution detection and monitoring, detection of illegal drug and people trafficking, fisheries protection, and offshore asset and infrastructure inspection.
One of the most advanced drones Martek uses is Flyability's Elios collision tolerant unmanned aerial system, which provides a safer way to carry out tank inspections beyond the line of sight without the use of safety equipment, such as portable gas detectors, scaffolding or ropes. Specifically designed for harsh environments, the drone is protected by an anti-collision web and is dust, splash and bump resistant.
The drone is protected by an anti-collision web
Continous text if PQ is visible - Left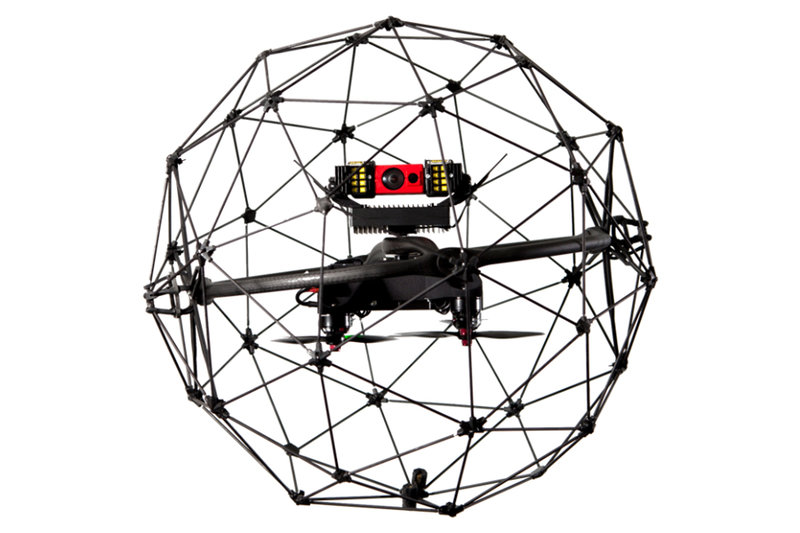 Intel's ocean drone programme
On World Oceans Day 2017, computer company Intel announced it will work with Parley for the Oceans to study the seas.
Intel will provide its artificial intelligence and drone technologies, such as the Intel Falcon 8+ drone and the Intel Sirius Pro drone, a fixed-wing UAV, to boost the science and expeditions of Parley and its collaborator network.
Previously, to gather data from whales, partner Ocean Alliance developed the SnotBot drone to collect the blow, or snot, exhaled from whales when they surface to breathe. The SnotBot devices can relay collected samples to researchers on ships that are a comfortable distance away from the whales.
Intel's expertise in smart and connected technologies will be used to download data from the drones to machines running algorithms that can identify a particular whale and assess its health in real-time.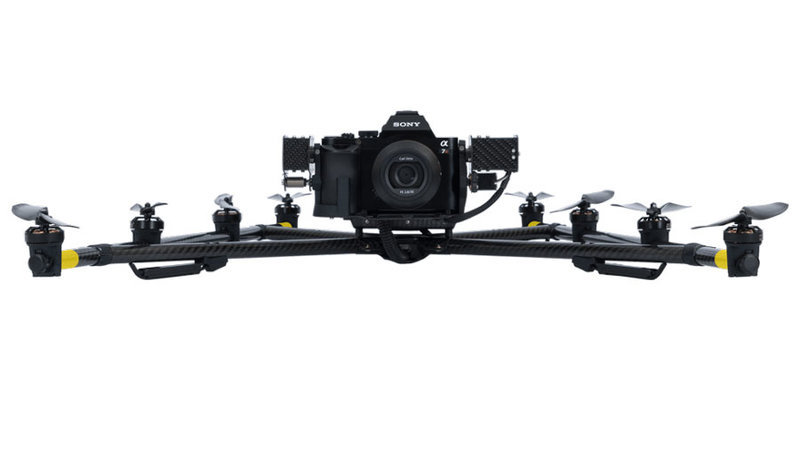 Natilus: cargo drone start-up
Hoping to prove that drones are also disruptive to the maritime shipping industry, start-up Natilus wants its drones to be used as an alternative to cargo ships.
The company wants to build large autonomous drones that can carry around 200,000 pounds of cargo and transport goods 17 times faster than a cargo ship. The cost is, at present, significantly more, however; traditional ocean-based shipping costs $61,000 for a 504-hour journey, whereas Natilus's AUVs cost $130,000 and take 30 hours, but this is significantly cheaper than a plane ($260,000).
In November 2017, the company reportedly closed its second round of seed funding with investment from Starburst Ventures, Seraph Group, Gelt VC, Outpost Capital and Draper Associates. The funds will go towards "aggressively scaling", in anticipation of the start-up's first Federal Aviation Administration-approved flight for its 30ft prototype. The test flight was scheduled for late 2017, and a commercial market launch is set for 2020.
The Loon Copter: above and below sea drone
The Loon Copter is a novel multi-rotor platform capable of traditional aerial flight, on-water surface operation, and sub aquatic diving.
The drone flies like a normal quadcopter drone, but can also land and rest on the water's surface, or it can use its props to push itself along the surface, pumping water into its buoyancy chamber, causing it to sink.
Developed by Oakland University, the drone can be used for many applications, including search and rescue operations, bridge foundation inspections, underwater pipeline inspections, tracking of oil spills at different depths, and marine life studies.

Currently at proof-of-concept stage, the drone was successfully demonstrated in 2015. Its third prototype won the 2016 UAE Drones for Good competition in Dubai and was awarded $1m in funding.
Aeromon emission monitoring system for drones
In 2017, Aeromon launched the Aeromon Emission Monitoring System for drones to better measure emissions in the maritime environment.
The analytics platform and mobile sensors help industry professionals to measure and visualise in real-time more than 70 different gases.
In Europe, approximately €4-6m will be spent over the next two years on monitoring marine sulphur emissions with the help of unmanned aerial vehicles, according to Tekes, which is a funding incubator for new technology in Finland.
According to Aeromon, the system helps cut costs by creating the ability to rapidly map on-site emissions in a flexible, accurate manner, delivering significant time savings. It does this using an RPA-mounted BH-8 sensor module with an active sampling system, a data handling/communications computer and a web-based analysis platform, the Aeromon Cloud Service.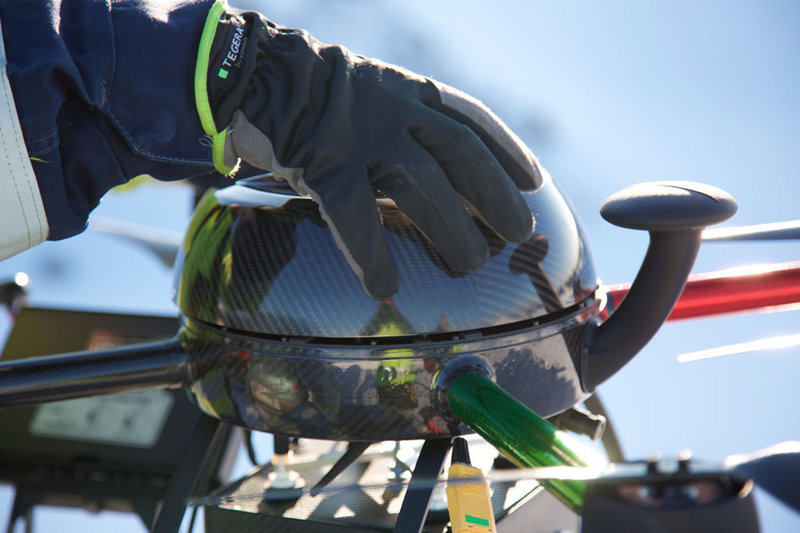 Wilhelmsen's new drone delivery service
In May 2017, Wilhelmsen Ships Service announced its plans to start a new drone-based ship delivery service for its clients.
The service will omit the need to launch boats to deliver essentials, such as critical documents or vital medical supplies, tank inspections, or monitoring cargo and stockpile levels, to vessels at anchorage. Along with cutting delivery times, the company said the drone flights slash costs as launch vessels typically cost around $1,500, whereas a drone delivery costs around $150.
The company plans to launch a working pilot project in a large port sometime soon.