Titan LNG selects Port of Amsterdam for bunkering operation
Titan LNG has entered a long-term contract with the Netherlands' Port of Amsterdam to rent the port as 'home' location for its bunkering pontoon, FlexFueler001.
The pontoon is designed to provide easy, affordable and safe liquefied natural gas (LNG) bunkering services for vessels powered by LNG.
Port of Amsterdam CEO Koen Overtoom said: "We believe in LNG as a shipping fuel and Titan LNG's solution fits very well with our strategic focus on becoming a sustainable port and our transition to renewable energy.
"We strive to connect the port seamlessly to the fast growing metropolitan area, and lowering pollution is a top priority! We are looking forward to the launch of the FlexFueler001 at the end of this year."
The latest deal is also expected to help the Port of Amsterdam support the development of an LNG bunkering market in Amsterdam.
Titan LNG CEO Niels den Nijs said: "LNG as a marine fuel has a great future and provides one of the building blocks of a more sustainable shipping industry."
The company has selected Port of Amsterdam's America Harbour to transfer LNG using various methods, including via trucks and LNG transport vessels.
The trucks and vessels will be used to discharge LNG into the FlexFueler pontoon in order to allow it to load fuel independently, without relying on large-scale terminal facilities.
America Harbour features a 9.7m draft and is anticipated to easily receive inland and seagoing vessels.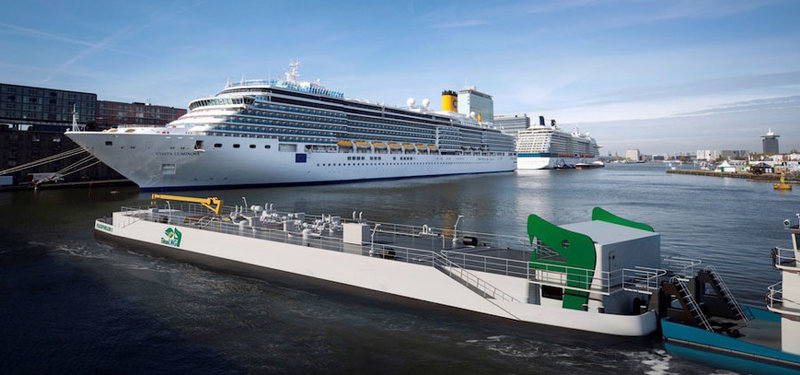 Nautic Alert unveils new solution to control water discharge in vessels
Market Spectrum's Nautic Alert has launched a new system that allows operators to plan, manage and control the discharge of untreated bilge water on-board commercial vessels as a part of an Internet of Things (IoT) marine solution.
Commercial ships require oily water separation systems to properly discharge water, however many vessels currently store the untreated fluid in their bilge and release it during port stops.
The new Nautic Alert X2 solution is intended to enable vessel personnel to monitor the amount of untreated bilge water in real-time, either on-board or remotely, and identify the exact water level in the bilge compartment, as well as changes in the level over time.
The solution utilises Nautic Alert Nevata's SMART bilge pump controller technology, allowing personnel to disable discharge or redirect the untreated bilge water into an on-board oily waste holding tank in situations when discharge is not allowed.
Vessel operators are able to remotely set the master discharge settings from their phone.
The system is also capable of re-starting discharge operations in emergency high-water conditions.
Its bilge discharge control function is expected to assist commercial mariners in complying with necessary maritime and government regulations.
In addition, the company anticipates that the solution will help protect the environment, while offering a compliance enforcement and regulatory solution by providing a cost-effective alternative for discharging bilge water from commercial and charter vessels.
Nautic Alert keeps a log detail of every bilge activity with a corresponding timestamp and GPS to assist in the creation of audit and compliance reports.
The solution has been certified for use on both the Verizon Wireless 4G LTE network and the Iridium Global Satellite Network.
Port of Zeebrugge and Cosco sign deal for CSP terminal
Belgium's Port of Zeebrugge has signed an agreement with China-based COSCO Shipping Ports regarding the concession terms of the CSP Zeebrugge Terminal.
COSCO also entered a memorandum of understanding (MoU) with Marseille-based shipping firm and Ocean Alliance member CMA CGM Group during the signing ceremony, which was held in Brussels.
CMA has agreed to make an initial investment of 10% in CSP Zeebrugge as part of the MoU.
COSCO Shipping chairman Captain Xu Lirong said: "Being the major gateway port of Belgium and major hub port in Northwest Europe, Zeebrugge port plays an important role in sea transportation.
"The signing of concession terms with Port of Zeebrugge will further enhance the terminal services and deepen the bilateral trade relationships between the two countries.
"Furthermore, we are discussing with Port of Zeebrugge about our cooperation of developing full logistics services on the terminal hinterland. I hope we will have developments soon to enhance the customer services."
CSP is expected to assume control of the terminal and develop it into a gateway port of COSCO Shipping in Northwest Europe following the completion of the concession agreement.
Port of Zeebrugge managing director Joachim Coens said: "Zeebrugge port provides favourable coastal conditions to accommodate mega-vessels.
"Located in the outer port with strong infrastructure, CSP Zeebrugge is well equipped to provide efficient services to shipping companies."
The terminal is equipped with easy transportation access in all directions and offers a network of road and rail connections to all Continental European nations, as well as different ports across Northwest, Central and Eastern Europe.
Sonardyne's deep tracking technology installed on German vessel
Sonardyne International has installed its deepwater acoustic tracking technology known as 'Ranger 2' on-board the German research vessel Maria S. Merian.
The new technology was delivered by Sonardyne's in-country agent Scholz Ingenieur Büro and replaces the vessel's existing third-party Ultra-Short BaseLine (USBL) acoustic equipment.
The solution is expected to enable researchers on-board the vessel to accurately track the position of deepwater science systems, including unmanned robotic platforms and seafloor landers, beyond a 7km range.
Scholz Ingenieur Büro official Jan Wommelsdorff said: "This is the first Sonardyne Ranger 2 GyroUSBL to be fitted to a German research ship and is a key technology for enabling the country's scientists to work in demanding deep-sea environments."
Maria S. Merian is operated by the German Research Vessels Control Station at the University of Hamburg's Institute of Geology.
It is primarily used to conduct sea bottom, water column and atmospheric observations in the Mediterranean and North Atlantic regions.
The vessel features an ice-breaking reinforced hull and has also been deployed within the subpolar Norwegian Sea.
The upgrade initiative also saw the vessel equipped with Sonardyne's GyroUSBL instrument, which includes a USBL transceiver and high-grade inertial navigation sensor.
GyroUSBL is intended to maximise precision by reducing common sources of USBL system errors, including lever arm offsets, pole bending and ship flexing.
The device is set to be deployed during science missions to track Wideband Sub-Mini 6+ transponders attached to scientific equipment in the water.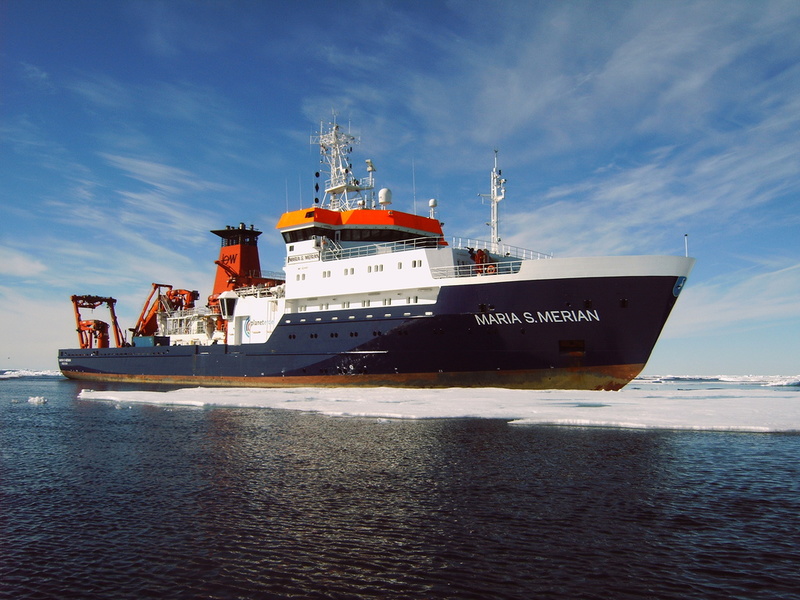 Port of Rotterdam commissions new hybrid vessel
The Port of Rotterdam in the Netherlands has commissioned the new hybrid patrol vessel RPA 8 that was built by Kooiman Group in Zwijndrecht.
The new 25m-long boat can run on both diesel and diesel-electric power and replaces the previous RPA 3, which had reached the end of its technical and economic service life.
Port of Rotterdam harbour master René de Vries said: "Commissioning this vessel is in keeping with the policy of stimulating sustainable sailing and setting an example as Port Authority."
Approximately 30,000 sea-going vessels and 110,000 inland vessels arrive at the Port of Rotterdam every year.
RPA 8 is noted to use less fuel than previous models, while its hybrid propulsion system enables more efficient patrolling at low speeds and reduces the number of hours that the diesel engines are required to run at low-load operation.
The vessel's special wing profile underwater will result in a reduced wake, which is anticipated to be beneficial for quay walls and other vessels, as well as reduce fuel consumption.
In addition, RPA 8's hull is constructed from aluminium in order to further limit the amount of fuel required for operation.
René de Vries added: "All these innovations result in the RPA 8 saving the same amount of energy as 65 households consume in one year.
"This also reduces the vessel's CO2 emissions; the level of reduced emissions is calculated to be equivalent to saving the annual planting of approximately 8,000 trees."
Many of the innovations on-board the RPA 8 are also slated to be used on the RPA 13, RPA 12, RPA 11, RPA 10 and RPA 16 vessels.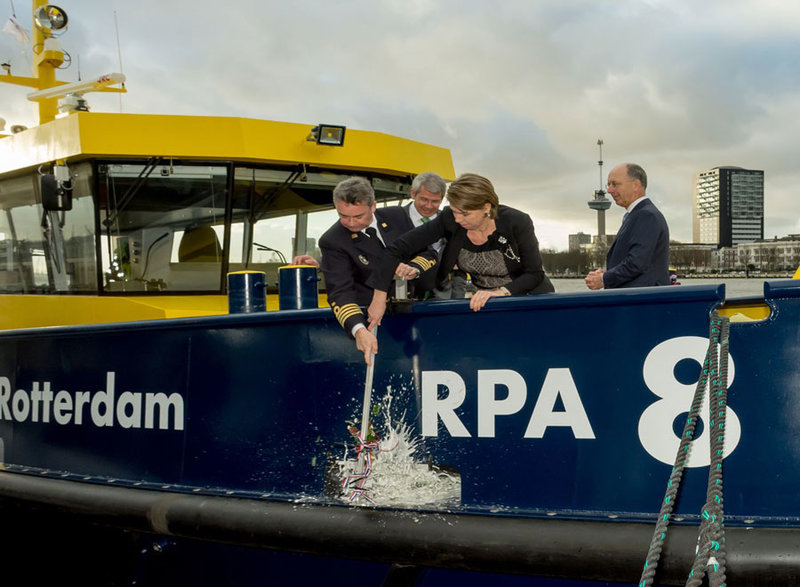 SEACOR Marine forms JV with affiliates of Cosco Shipping Group
Global marine and support transportation services provider SEACOR Marine Holdings has completed the formation of a joint venture (JV) with affiliates of shipowner Cosco Shipping Group.
The JV will be known as SEASOSCO Offshore and is based in the Marshall Islands.
It has already signed contracts to purchase eight new Rolls-Royce-designed construction platform supply vessels (PSVs) from Cosco Shipping Heavy Industry's Guangdong shipyard for a total consideration of roughly $161.1m.
A total of six of the contracted PSVs will feature the UT 771WP design, while the remaining two will be UT 771CD models.
SEACOR Marine CEO John Gellert said: "We are confident that we have structured a transaction that meets the needs of the shipyard, while also managing the cash outlay from the equity owners.
"The acquired vessels will modernise our operating fleet and expand our offerings to our customers.
"Combining a proven and advanced design, best-in-category accommodations and the innovative Rolls-Royce battery system, these vessels will be highly marketable across all major offshore energy regions worldwide."
SEACOSCO is expected to take ownership of seven of the PSVs this year, while the final unit will follow next year.
The PSVs are set to be stored at the Guangdong shipyard facility upon completion of the deal.
SEACOSCO has also reached an agreement with Rolls-Royce Marine to outfit six of the PSVs with a battery energy storage system, which are designed to decrease their overall fuel consumption.
SEACOR Marine will be responsible for the vessels' full commercial, operational and technical management on a worldwide basis as part of a separate management agreement with SEACOSCO.
K Line, MOL and NYK receive conditional approval for shipping JV
Japan's three major container shipping companies, Kawasaki Kisen Kaisha (K Line), Mitsui O.S.K. Lines (MOL) and Nippon Yusen Kabushiki Kaisha (NYK), have received conditional approval from local competition authorities to launch their newly formed joint venture (JV) known as Ocean Network Express.
The three companies will be required to take necessary measures to comply with the country's competition law and various conditions set by the authorities before launching the JV.
The parties' decision to combine their businesses follows a period of low oil prices and sluggish cargo demand within the industry, as well as over-supply of trade capacity, which has led to container freight rates reaching historic lows.
Approvals for the JV were previously secured from all relevant regions and countries, except South Africa, as of the end of June last year.
Ocean Network Express is anticipated to combine the container shipping business of K Line, MOL and NYK.
It will also include the three companies' global terminal operation businesses outside Japan.
Ocean Network Express will operate a fleet of approximately 240 vessels, including a total of 31 ultra-large container ships featuring the world's largest TEU-class vessel.
The JV is scheduled to begin service by April and intends to provide an improved level of service, as well as meet customer requirements more efficiently by developing an extensive network spanning 90 countries.
Plans for the formation of Ocean Network Express were originally announced in July last year.
Rolls-Royce plans sale of commercial marine business
Rolls-Royce has unveiled plans to sell its commercial marine business as part of an initiative to further simplify and restructure the company's core business.
The consideration is a result of the weak demand for Rolls-Royce's Marine division's products and services since 2015.
Rolls-Royce previously sold various non-core businesses and cut down its number of sites from 27 to 15, reducing its overall presence by roughly 40% worldwide.
The company has further reduced its workforce by 30% to 4,200, while its marine business has been investing in new facilities and technologies such as ship intelligence and autonomous vessels.
Rolls-Royce CEO Warren East said: "This is the right time to be evaluating the strategic options for our Commercial Marine operation.
"The team there has responded admirably to a significant downturn in the offshore oil and gas market to reduce its cost base.
"At the same time, we have carved out an industry-leading position in ship intelligence and autonomous shipping and it is only right that we consider whether its future may be better served under new ownership."
Rolls-Royce intends to review its latest consideration throughout the rest of 2018.
The company also plans to reduce its existing operations from five businesses to three core units based around Civil Aerospace, Defence and Power Systems as part of its restructuring process.
Rolls-Royce's Naval Marine and Nuclear Submarines operations are also expected to be consolidated within the company's existing Defence business, with its Civil Nuclear operations currently functioning within its Power Systems business.