UN pushes ahead with Ukraine grain inspections as Russia backs out
Moscow has suspended participation in a joint UN-Turkish programme that enabled the export of Ukrainian grains via a maritime corridor in the Black Sea. Richard Thomas reports.
The United Nations (UN) has proposed to continue the inspection of merchant vessels exporting vital foodstuffs from Ukraine despite Russia's decision to unilaterally suspend its participation in the Black Sea Grain Initiative (BSGI).
The BSGI was jointly created by the UN, Turkey, Russia, and Ukraine, to enable the export of vital grains and fertilizers from Ukraine, which had been halted following the 24 February invasion of the country by Moscow. As of 30 October, the total tonnage of grain and foodstuffs moved from the Ukrainian ports under the initiative totalled more than 9.5 million tonnes.
In a 30 October statement, the BSGI's Joint Coordination Centre (JCC) revealed its proposal to continue to utilise UN and Turkish maritime inspection teams on 40 outbound vessels loaded with Ukrainian grains intended for the global market. Russia's decision to indefinitely suspend its participation in the process had caused significant backlogs of vessels seeking permission to undertake inbound and outbound transits.
The first shipment of over 26,000 tonnes of Ukrainian grains under a Black Sea export deal was cleared to proceed on 3 August. More than 9.5 million tonnes have since left Ukrainian ports. Credit: OCHA/Levent Kulu
As of 30 October, there were 97 loaded vessels and 15 inbound vessels registered for JCC inspection around Istanbul. There are an additional 89 that have applied to join the Initiative, according to the JCC statement.
There are currently 21 vessels engaged in the initiative that are in or near the three Ukrainian ports with a capacity of over 700,000 tonnes, including the Ikaria Angel, a vessel chartered by the World Food Programme loaded with 30,000 tonnes of wheat for the emergency response in the Horn of Africa.
The movement plan for 31 October included 16 vessels, 12 outbound and four inbound, to be able to transit the maritime humanitarian corridor.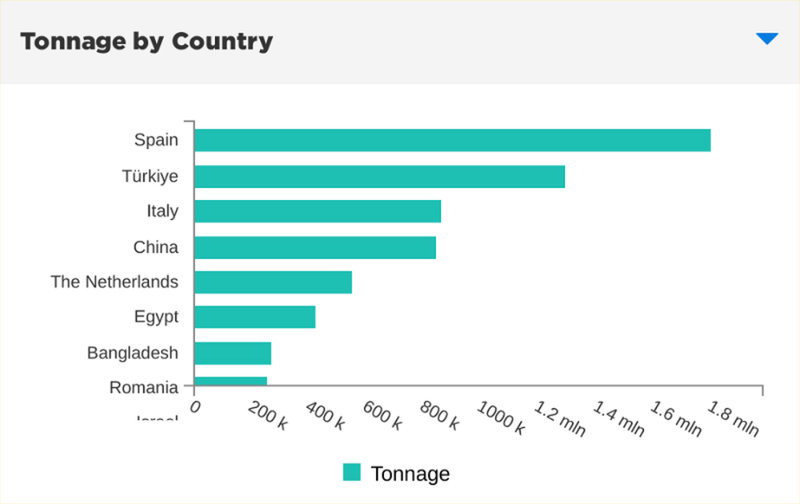 The chart shows the quantity of grain shipped to the respective destinations, with countries such as Turkey often acting as a transshipment hub for onward delivery. Credit: UN BSGI/JCC/powered by HDX
For Ukraine, the ability to restart exports came as a boost to its wartime economy, which despite backing from NATO members and other countries is set for a double-digit recession as a result of Russia's February invasion. Combined military and civilian losses on both sides runs into the tens of thousands, with NATO members committing tens of billions of dollars in military and humanitarian aid to Kyiv.
UN backs BSGI renewal
Prior to the war, Ukraine was one of the world's largest exporters of grains and global food prices skyrocketed as Russia stopped all merchant traffic from travelling to Ukrainian ports. According to UK Government data, in 2021 Ukraine provided 30.9% of Egypt's grain and wheat consumption, 7.7% of Yemen's, 7% of Bangladesh's, and 11.7% of Morocco's. Previously, 96% of Ukrainian grain was exported through the Black Sea.
The Ukrainian Black Sea ports of Odesa, Chornomorsk, and Pivdennyi are the main hubs for grain exports, and have been blockaded by the Russian Navy's Black Sea Fleet since the invasion began earlier this year.
As part of the JCC, NATO member Turkey will inspect, inside its territorial waters, shipping coming to and from Ukrainian ports to ensure there are no breaches of the agreement such as the transport of arms and other materiel.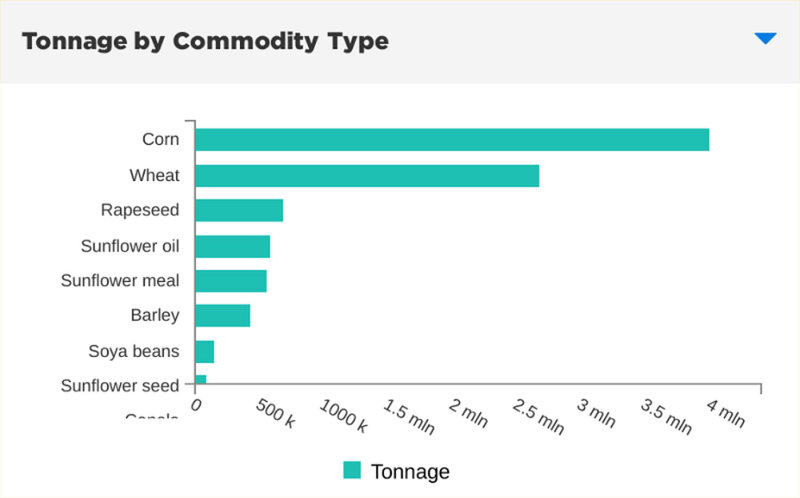 The chart indicates the types of grains and other foodstuffs being shipped out of Ukraine as part of the BSGI, from which Russia has now suspended its participation. Credit: UN BSGI/JCC/powered by HDX
On 28 October a spokesperson for the UN Secretary-General, following Russia's announcement of its unilateral suspension from the Initiative, expressed "unwavering commitment and strong support" to the renewal and full implementation of the BSGI.
"We underline the urgency of doing so to contribute to food security across the world, and to cushion the suffering that this global cost-of-living crisis is inflicting on billions of people.

"If food and fertilizers do not reach global markets now, farmers will not have fertilizers at the right time and at a price they can afford as the planting season begins, endangering crops in all regions of the world in 2023 and 2024, with dramatic effect on food production and food prices worldwide," the spokesperson said.
The duration of the agreement to facilitate grains and fertilizer exports from Ukraine, which began in August, was initially set at 120 days and can be extended automatically on 19 November if no party objects. The move by Russia to suspend participation in the programme has brought into doubt whether this can be agreed.
"We urge all parties to make every effort to renew the Black Sea Grain Initiative and implement both agreements to their fullest, including the expedited removal of any remaining impediments to Russian grain and fertilizer export," the spokesperson added.