Havfarm: a new salmon fishing revolution in Norway
Aquaculture company Nordlaks is developing Havfarm, a giant ship-shaped fish farm that could revolutionise salmon fishing in Norway. Where will aspects of ship design assist with this cause, and how might it change Norway's aquaculture industry in the future?
Joe Baker

finds out more
All images courtesy of NSK Ship Design/Nordlaks
In February,Norwegian fish farmer Nordlaks penned an agreement with Chinese shipyard CIMC Raffles to build the first of two major new fish farms under the Havfarm moniker. When it commences operations in 2020, the ship-shaped Havfarm 1 will feature a catamaran-like hull measuring 430m in length and the capacity to accommodate up to 10,000 tonnes of salmon at a time.
The Havfarm concept - developed by Nordlaks alongside veteran ship creators at NSK Design - have been heralded as a potential game-changer for Norway's already burgeoning salmon fishing industry. But where have shipping principles been applied to this humongous platform, and what could it mean for the future of Norway's aquaculture sector?
A sturdier fish farm design
Havfarm 1 will be a stationary platform moored approximately 5km south-west of Hadseløya, an island in Norway's Vesterålen region. The steel structure will extend more than 30m below sea level and act as a framework for six separate mesh pens, measuring 50m across and ten metres deep. It will be capable of withstanding wave heights up to ten metres, and can be raised up even further out of the sea when inclement weather strikes.
According to Nordlaks' Havfarm project manager Bjarne Johansen, it's a grand departure from traditional fish farm designs, which usually consist of a number of floating plastic rings moored to the seafloor to keep nets afloat. In the region that Havfarm will occupy, this sort of design is too flimsy for the potential chance of stormy conditions.
It's a grand departure from traditional fish farm designs
"There are limitations to which locations are suitable for this technology, depending primarily on waves and currents during harsh weather," says Johansen. "The limitations are both due to considerations for the structural integrity of the farms, but also considering the fish itself and the operation.
"In order to move aquaculture out of the fjords to more exposed locations, we need new technology both able to withstand even tougher weather conditions, and at the same time able to keep the fish and people safe."
The Havfarm will also feature propellers that will allow it to rotate around a mooring point in its bow – a process known as weathervaning. This will allow it to increase its deposit area for waste nutrients accumulated from fishing activities, as well as reduce stress on its mooring anchor.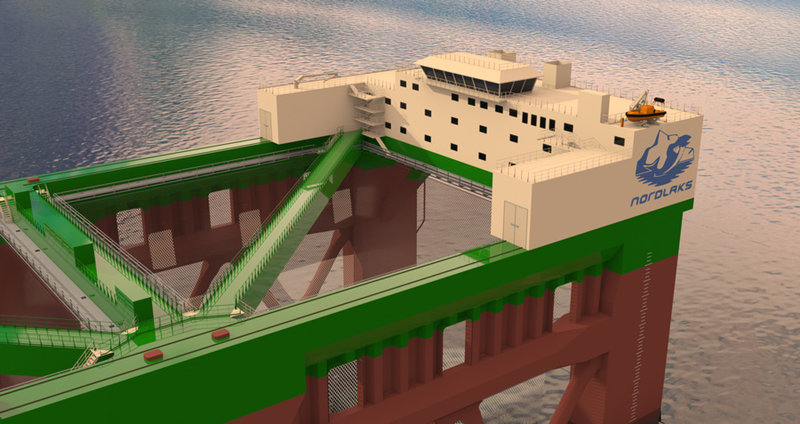 Building on Havfarm 1, Havfarm 2 will feature "ship-like system and operation capabilities" that will allow it to adapt to weather conditions.
Havfarm 2 will use a dynamic positioning system – a commonly used solution in the shipping industry that allows vessels to automatically change their position and heading using thrusters and propellers. Based on forecasted weather conditions, the platform will be able to propel itself to a sheltered location in the event of a storm.
"The dynamic Havfarm will enable use of even more exposed areas during parts of the year, and will also be able to coordinate the use of an area with other interests," says Johansen.
Havfarm 2 will feature ship-like system and operation capabilities
Rolls-Royce is supplying six TT1100 tunnel thrusters for the production of Havfarm, which will be used to circulate water inside underneath fish cages. It will also provide four LNG engines to an environmentally-friendly wellboat ordered by Nordlaks, which will be used to regularly transport up to 600 tonnes of live salmon from Havfarm.
"This is the first time we will be supplying thrusters for this kind of use," said Ottar Ristesund, SVP of propulsion sales at Rolls-Royce, in a press statement. "Normally, they are used for ship propulsion, so it is fascinating to see that our technology is being applied in new area. It's good that the maritime industry can join forces with fish farmers to think innovatively and help Norway harvest food from the sea using new and sustainable methods."
Johansen says that Havfarm will be an important tool for Nordlaks to reduce its impact on the environment, especially considering interactions of wild fish and their biological footprint.
"Alongside the Havfarms and other projects, Nordlaks are investing heavily in increasing the capacity for producing larger smolt (stocking fish) and new sustainable wellboat technology," says Johansen. "Shortly put, we are planning for an entirely new production strategy which we believe will take us further in reducing the environmental footprint."
The Havfarms will also be more resistant to sea lice infestation than conventional installations
The Havfarms will also be more resistant to sea lice infestation than conventional installations, featuring innovative steel louse skirts that extend ten metres underwater.
Sea lice present a major parasitic threat to sea farms. Norwegian authorities have placed the strictest regulations of any country on its aquaculture industry, with farmers having to count lice across their catch on a weekly basis. However, as the lice continually adapt to removal methods, it's a tricky battle to win.
"Today, the Norwegian aquaculture industry is mostly using mechanical methods to remove sea lice," says Johansen. "Although the industry is able to control the number of lice, it's an ongoing effort to develop the methods to be more efficient against the sea lice but at the same time take care of fish welfare."
Achieving an optimal compromise
At the moment, the first Havfarm is being constructed in three parts – or megablocks – which will be transferred to the CIMC Raffles yard during summer 2019. The three parts will be put together before the Havfarm is moved to a quay for equipment installation.
It will be interesting to see how the development of Havfarm influences future fish farm designs and assists the move of fishers from fjords to the open seas. However, Johansen says that the future of Norway's aquaculture will depend on achieving an "optimal compromise" between social considerations, business economics and environmental sustainability.
"The over-arching challenge is that the definition of what is the optimal compromise changes faster than ever, and the industry struggles to keep up with developing knowledge, methods and technology, while at the same time keeping cost under control and thus staying competitive," he says.
"It's early to say, but we are confident that an important key for sustainable growth is the industry's ability to use available areas in the most efficient manner possible. If we succeed in proving the Havfarm technology, this will be a new tool in the toolbox to achieve this."
It will be interesting to see how the development of Havfarm influences further designs
The Norwegian Government has issued several research and development licenses with an aim of promoting the development of new technology and production methods for sustainable fish farming.
"We do believe that those licenses are crucial to speed up the evolution of fish farming in Norway, perhaps especially when it comes to off shore farming," says Trond Davidsen, deputy managing director of the Norwegian Seafood Federation. "Since there are no costs related to the licenses as such in the project phase, the companies who have applied and been granted those licenses are able to take higher risks.
"If the development project succeeds and goals of sustainable production are met, the companies can pay a reduced fee for the licenses and convert them to commercial licenses for fish farming. There is obviously an incentive for the companies to achieve more sustainable production."