ROYAL BOTANIA
Royal Botania is the brand that designs iconic luxury outdoor furniture for cosmopolitans with a passion for finesse.

By using only the highest quality materials and top craftsmanship, Royal Botania guarantees the best quality. With a combination of beautiful design, sustainability and technicity, Royal Botania sets the tone worldwide. The stylish outdoor furniture has been a household name for years and adorn numerous gardens, terraces, hotels, boats, and many more.
It was the early 90's when we created the Royal Botania brand. In those days, luxury and refinement, was limited to the indoor spaces, and very rarely found outdoor.
Our goal was to change that.
Royal Botania is a testimony of where, our inspiring journey of love for creation, passion for perfection and striving for excellence, has taken us.
I hope you will share our enthusiasm and welcome you to indulge in finesse.
Kris Van Puyvelde
Founder


Due to its enormous stability, its renowned resistance to the elements, its attractive hue and structure, teakwood is widely considered the noblest of all wood species. Obviously, we only select the very best mature teakwood for our products.
Our dedicated team constantly monitors the full traceability back to the origin, of every single piece of wood used in our production.
As we consider it our obligation, to give more to the planet, than we consume, Royal Botania has set up Green Forest Plantation Co. in 2011, and created a plantation with a surface area of about 200 hectares (i.e. 500 acres). Between 2011 and 2014, over 250.000 teak trees were planted there. They are doing great, and growing well. Thus our future generations will also be able to harvest and appreciate this natural treasure, called Tectona Grandis.


To guarantee flawless products, we consider full control of every single step of the production process a must. That is why we decided in 2002, to set up our own production plant, just outside Bangkok in Thailand.
There we employ some 400 people, dedicated to making every single piece, leaving the facility, worthy of the brand name Royal Botania. Under one 13.000m² roof, we have concentrated all the skills, and all the state-of-the-art machinery, to make that happen.
Only by having your own production facility, you have full control over the working conditions. It is our conviction, that people must feel appreciation for their work, to be motivated and focused on their task. Love always needs to come from both sides. That is why we provide much more than just a safe and healthy working environment, and free meals. We also offer free on-site housing, to many of our welders, weavers, grinders, technicians, quality controllers, assemblers,… where they can all live, together with their families. There's also medical care, free English lessons, sport activities, and even a kindergarten for the little ones. So, the Royal Botania production, is much more than just a high-end furniture factory, it is a big, happy community!


Each Royal Botania design, is based on 3 key elements; aesthetics, ergonomics and engineering. They determine the DNA of every single concept. Blending these ingredients together, while fine-tuning their balance, is our basic recipe. The eye for details and the exquisite finish come as complementary toppings.
With this formula, our in-house design team, led by our founder Kris Van Puyvelde, has earned international appreciation, and won multiple design awards on both sides of the Atlantic.
Additionally, we engage the talents of carefully selected external designers, to broaden our horizon.
All this creativity has resulted in a wide range of charismatic products, known as the Royal Botania collection.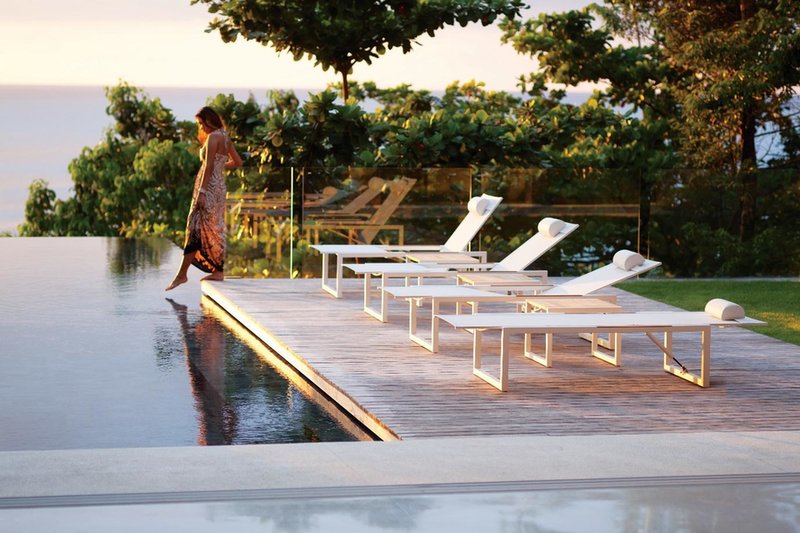 We've provided furniture worldwide to luxury hotels and cruise lines. Below you can find a small list of some of our projects:
| | | |
| --- | --- | --- |
| HOTEL | W HOTEL SENTOSA COVE | SINGAPORE |
| HOTEL | GRAND HOTEL KEMPINSKI | SWISS, GENEVA |
| CRUISE | SEVEN SEAS VOYAGER & NAVIGATOR | USA |
| YACHT | COLOMBUS 177 PRIMA | ITALY |
| HOTEL | HILDEBRANDT KITZBÜHEL | AUSTRIA |
| HOTEL | PALM JUMEIRAH | DUBAI |
| HOTEL | FOUR SEASONS | CYPRUS |
| RESIDENTIAL | PRESIDENTIAL PALACE | ABU DHABI |
| CORPORATE | APPLE HEAD QUARTERS | CALIFORNIA |
| HOTEL | MIRAMONTI BOUTIQUE HOTEL | ITALY |
| HOTEL | W HOTEL THE PALM | DUBAI |
| HOTEL | FOUR SEASONS | GREECE |
| HOTEL | RITZ CARLTON POLO RESORT | MOROCCO |
| HOTEL | ITHAAFUSHI ISLANDS | MALDIVES |
| HOTEL | INTERCONTINENTAL THALASSO | BORA BORA |
| HOTEL | SCHWARZER ADLER | AUSTRIA, KITZBÜHEL |
| HOTEL | HOTEL ARTS | BARCELONA |
| HOTEL | RITZ CARLTON HOTEL | JAPAN, OKINAWA |
| HOTEL | RITZ CARLTON HOTEL | THAILAND, KRABI |
| HOTEL | BVLGARI | DUBAI |
| HOTEL | HYATT REGENCY ETOILE PARIS | PARIS |
| YACHT | ARCADIA YACHTS | ITALY |
| HOTEL | PARK HYATT | KYOTO |
| CRUISE | NORWEGIAN CRUISE LINE | USA |
| RESTAURANT | TAOS ZURICH | ZURICH |
| CRUISE SHIP | SEABOURN OVATION | ITALY |
| HOTEL | LE MELEZIN | FRANCE, COURCHEVEL |
| | | |
| --- | --- | --- |
| HOTEL | W HOTEL SENTOSA COVE | SINGAPORE |
| HOTEL | GRAND HOTEL KEMPINSKI | SWISS, GENEVA |
| CRUISE | SEVEN SEAS VOYAGER & NAVIGATOR | USA |
| YACHT | COLOMBUS 177 PRIMA | ITALY |
| HOTEL | HILDEBRANDT KITZBÜHEL | AUSTRIA |
| HOTEL | PALM JUMEIRAH | DUBAI |
| HOTEL | FOUR SEASONS | CYPRUS |
| RESIDENTIAL | PRESIDENTIAL PALACE | ABU DHABI |
| CORPORATE | APPLE HEAD QUARTERS | CALIFORNIA |
| HOTEL | MIRAMONTI BOUTIQUE HOTEL | ITALY |
| HOTEL | W HOTEL THE PALM | DUBAI |
| HOTEL | FOUR SEASONS | GREECE |
| HOTEL | RITZ CARLTON POLO RESORT | MOROCCO |
| HOTEL | ITHAAFUSHI ISLANDS | MALDIVES |
| HOTEL | INTERCONTINENTAL THALASSO | BORA BORA |
| HOTEL | SCHWARZER ADLER | AUSTRIA, KITZBÜHEL |
| HOTEL | HOTEL ARTS | BARCELONA |
| HOTEL | RITZ CARLTON HOTEL | JAPAN, OKINAWA |
| HOTEL | RITZ CARLTON HOTEL | THAILAND, KRABI |
| HOTEL | BVLGARI | DUBAI |
| HOTEL | HYATT REGENCY ETOILE PARIS | PARIS |
| YACHT | ARCADIA YACHTS | ITALY |
| HOTEL | PARK HYATT | KYOTO |
| CRUISE | NORWEGIAN CRUISE LINE | USA |
| RESTAURANT | TAOS ZURICH | ZURICH |
| CRUISE SHIP | SEABOURN OVATION | ITALY |
| HOTEL | LE MELEZIN | FRANCE, COURCHEVEL |
| | | |
| --- | --- | --- |
| HOTEL | W HOTEL SENTOSA COVE | SINGAPORE |
| HOTEL | GRAND HOTEL KEMPINSKI | SWISS, GENEVA |
| CRUISE | SEVEN SEAS VOYAGER & NAVIGATOR | USA |
| YACHT | COLOMBUS 177 PRIMA | ITALY |
| HOTEL | HILDEBRANDT KITZBÜHEL | AUSTRIA |
| HOTEL | PALM JUMEIRAH | DUBAI |
| HOTEL | FOUR SEASONS | CYPRUS |
| RESIDENTIAL | PRESIDENTIAL PALACE | ABU DHABI |
| CORPORATE | APPLE HEAD QUARTERS | CALIFORNIA |
| HOTEL | MIRAMONTI BOUTIQUE HOTEL | ITALY |
| HOTEL | W HOTEL THE PALM | DUBAI |
| HOTEL | FOUR SEASONS | GREECE |
| HOTEL | RITZ CARLTON POLO RESORT | MOROCCO |
| HOTEL | ITHAAFUSHI ISLANDS | MALDIVES |
| HOTEL | INTERCONTINENTAL THALASSO | BORA BORA |
| HOTEL | SCHWARZER ADLER | AUSTRIA, KITZBÜHEL |
| HOTEL | HOTEL ARTS | BARCELONA |
| HOTEL | RITZ CARLTON HOTEL | JAPAN, OKINAWA |
| HOTEL | RITZ CARLTON HOTEL | THAILAND, KRABI |
| HOTEL | BVLGARI | DUBAI |
| HOTEL | HYATT REGENCY ETOILE PARIS | PARIS |
| YACHT | ARCADIA YACHTS | ITALY |
| HOTEL | PARK HYATT | KYOTO |
| CRUISE | NORWEGIAN CRUISE LINE | USA |
| RESTAURANT | TAOS ZURICH | ZURICH |
| CRUISE SHIP | SEABOURN OVATION | ITALY |
| HOTEL | LE MELEZIN | FRANCE, COURCHEVEL |
| | | |
| --- | --- | --- |
| HOTEL | W HOTEL SENTOSA COVE | SINGAPORE |
| HOTEL | GRAND HOTEL KEMPINSKI | SWISS, GENEVA |
| CRUISE | SEVEN SEAS VOYAGER & NAVIGATOR | USA |
| YACHT | COLOMBUS 177 PRIMA | ITALY |
| HOTEL | HILDEBRANDT KITZBÜHEL | AUSTRIA |
| HOTEL | PALM JUMEIRAH | DUBAI |
| HOTEL | FOUR SEASONS | CYPRUS |
| RESIDENTAL | PRESIDENTIAL PALACE | ABU DHABI |
| CORPORATE | APPLE HEAD QUARTERS | CALIFORNIA |
| HOTEL | MIRAMONTI BOUTIQUE HOTEL | ITALY |
| HOTEL | W HOTEL THE PALM | DUBAI |
| HOTEL | FOUR SEASONS | GREECE |
| HOTEL | RITZ CARLTON POLO RESORT | MOROCCO |
| HOTEL | ITHAAFUSHI ISLANDS | MALDIVES |
| HOTEL | INTERCONTINENTAL THALASSO | BORA BORA |
| HOTEL | SCHWARZER ADLER | AUSTRIA, KITZBÜHEL |
| HOTEL | HOTEL ARTS | BARCELONA |
| HOTEL | RITZ CARLTON HOTEL> | JAPAN, OKINAWA |
| HOTEL | RITZ CARLTON HOTEL> | THAILAND, KRABI |
| HOTEL | BVLGARI | DUBAI |
| HOTEL | HYATT REGENCY ETOILE PARIS | PARIS |
| YACHT | ARCADIA YACHTS | ITALY |
| HOTEL | PARK HYATT | KYOTO |
| CRUISE | NORWEGIAN CRUISE LINE | USA |
| RESTAURANT | SEABOURN OVATION | ITALY |
| HOTEL | LE MELEZIN | FRANCE, COURCHEVEL |