Digitally controlling port arrivals: Timing is everything
The world's first digitally controlled port arrival took place on 25 June, which saw the ship dock on time at Tanger Med, Morocco. This success was achieved via the partnership of the Tanger Med Port Authority and Wartsila Voyage, as well as cooperation with the shipowner, Hapag-Lloyd. Frankie Youd profiles this technology and speaks to Hapag-Lloyd to find out more about the experience.
Docking on time at Tanger Med, Morocco after its voyage from Cartagena, Colombia, The Kobe Express – a container ship owned by Hapag-Lloyd and managed by Anglo-Eastern – completed what is being named as "the world's first digitally controlled port arrival".
By using the Navi-Port system developed by Wartsila, data was exchanged between the ship and destination port, allowing the arrival time of the ship to be shared digitally with the onboard navigation system.
As well as technology optimising the arrival time, it also allows the fuel and time to be saved by the ship as well as reducing waiting times at anchor, which can be costly and damaging to the environment.
How does it all work?
Warsila Voyage's digital platform, Navi-Port, in practice connects a ship's navigation system with the port, which sees the system exchanging the required time of arrival with the onboard navigation system. This allows the ship's speed to be adjusted and scheduled for just-in-time arrival.
Navi-Port is connected with Warsila Voyage's Fleet Operations Solution (FOS), an online system designed to enable ship-to-shore reporting and fleet performance management. FOS combines the ship's individual processes – which are otherwise separated – such as fuel consumption, weather routing, and speed management, to optimise journey time and fuel consumption.
While en-route, the ship sends the planned time of arrival to the port. If this has to be changed due to port conditions being unable to accommodate the vessel, a requested time of arrival is returned to the ship, which is received by the software.
This is a momentous accomplishment. We have moved beyond pilot and testing projects to real-life applications.
Once received, the software calculates the new, appropriate sailing route for the ship to take, as well as the appropriate speed. Once processed, this data is then sent to the vessel, as well as the shipping company's Fleet Operation Centre. Once approved, the ship's speed is automatically adjusted to respond to this new arrival time, the altered arrival time being shared with the port and updated regularly.
In a press release, Dmitry Rostopshin, general manager for ship traffic control at Wartsila Voyage, said: "This is a momentous accomplishment. We have moved beyond pilot and testing projects to real-life applications, and we see this as kick-starting a trend that will make both shipping and port operations more efficient and less carbon-intensive."
When commenting on the testing, Ralf Belusa, chief digital officer, Hapag-Lloyd, stated: "From the feedback I received, it was really seamless and straightforward. Easy to set up and use, [it's] helping to optimise the processes, and a great next step in this field of automation and connected data. I´m very much looking forward to how this will evolve and making things easier and more efficient."
The benefits of Navi-Port
With the key benefit of the technology being its sole purpose of docking ships efficiently and on time, it brings additional benefits to the ship owners, ports, and the environment. Acting as a gateway for global trade, ports are hubs buzzing with economic activity, however, they are also major sources of ship pollution.
While in use, ships produce many harmful gasses and pollutants such as CO2, black carbon, nitrogen oxides, and nitrous oxide, leading to the industry heavily contributing to global pollution. If arrival times have not been noted correctly, or changes have not been communicated, this can see ships arriving at ports at incorrect times – leaving them idle, which in turn produces more harmful gasses.
As well as increasing levels of pollutants being pumped into the atmosphere and ocean by ships idly waiting outside ports, the financial impacts are considerable, due to the unnecessary burning of fuel.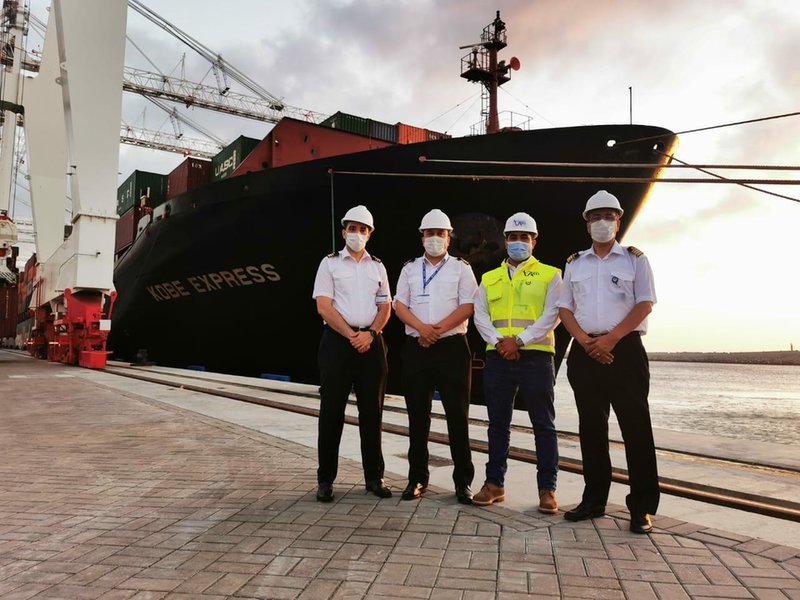 Wärtsilä Voyage and Tanger Med enable first real-life digital port call for Hapag-Lloyd vessel Kobe Express. Credit: Tanger Med
According to 'The Future of shipping, the positive impacts of just-in-time port arrivals' published, by Wartsila Voyage, studies show that container ships spend on average 6% of their time at anchor waiting for birthing to become available. This results in extra fuel consumption, higher emission levels, increased fuel costs, and congested ports.
Belusa comments on some of the benefits which he feels are key of the new technology: "Optimised and improved are: portcall, optimized time of arrival, ETAs, port space planning, port arrival, routings. Automation and security: with more additional data for making everything even more secure, aligned, and automated. Finally, cost management through route optimising and automation."
Reduced collisions
Alongside the benefits of reducing the amount of fuel that is used, another key benefit that this software brings is reducing the risk of collisions. The most prominent reason for collisions occurring is usually due to port congestion, which is caused by ships sailing at high speeds, seeing them arrive at their destination ahead of schedule only to have to wait for a birthing slot.
Collisions not only cause damage to the ships themselves, which sees the company investing in repairs, but can also be an extremely dangerous situation for crew members who are on board.
From a technology standpoint this active data-driven just-in-time steering is not new, the technology has been available for a couple of years, but it is now installed and set up in live production for the first time.
According to data provided by Korean Maritime Safety Tribunal, '2020 annual report of marine accident statistics', from 2016-2020 it was reported that 95% of the total collision accidents were caused by human factors, with 70% of these due to look-out negligence.
Alongside this data it was also reported from Korea Maritime Safety Tribunal from 2016–2020, 1,238 collision accidents occurred, which accounts for the highest proportion (45%) among 2,751 accidents related to maritime traffic.
With the technology bringing many benefits to not only those working within the industry but to the environment as well, further testing is being planned, as well as discussions to extend the technology to more vessels and ports.
When discussing the future of this technology Belusa, says: "From a technology standpoint this active data-driven just-in-time steering is not new, the technology has been available for a couple of years, but it is now installed and set up in live production for the first time, which we can use more and more to optimise and make process chains even better."