Damen completes acquisition of stake in DSME's Mangalia shipyard
Damen Shipyards Group has completed the acquisition of Daewoo Shipbuilding & Marine Engineering's (DSME) majority stake in the Mangalia shipyard in Romania.
The acquisition is based on a share purchase agreement reached between Damen and DSME in November last year.
Formerly known as Daewoo Mangalia Heavy Industries (DMHI), the newly acquired shipyard is situated on the Black Sea coast and has three drydocks with a total length of 982m and 1.6km of berthing space.
The shipyard will be renamed Damen Shipyards Mangalia and will operate as a joint venture between Damen and the Government of Romania.
Damen will assume operational control of the yard, which comprises of docks measuring 48m by 60m that are capable of handling larger maritime vessels and structures.
Sprawling across an area of around 1,000,000m², the shipyard is the largest of its kind within the portfolio of Damen Shipyards Group.
Damen Shipyards Group executive board member and chief financial officer Frank Eggink said: "We will face a challenging period, considering the yard's current condition.
"However, with the full support of the Romanian Government, 2MMS, the shipyard's experienced workforce, and the local community, Damen aims to restore the financial health of the yard, stabilise employment and pursue fitting commercial opportunities internationally that will contribute to rebuilding activity levels.
"In the meantime, Damen will facilitate a smooth transition and keep talented and skilled resources meaningfully employed."
Damen said that the deal represents a 'strategic complement' to its existing shipyard portfolio and the company may use the new yard for the construction and conversion of larger, more complex ferries, offshore construction vessels, and others.
LMG Marin to design two electric hybrid ferries for Norled
Sembcorp Marine subsidiary LMG Marin has secured a contract to design two battery-plug-in double-ended diesel-electric hybrid ferries to be operated by Norwegian operator Norled.
As part of the contract, LMG Marin will also provide the complete Class documentation for both the vessels, which will be built by Remontowa Shipbuilding in Poland.
The vessels will incorporate LMG Marin's LMG 120-DEH design that includes a range of energy-efficient solutions such as full LED lighting, electric power transmission, a demand-dependent heating, ventilation and air conditioning (HVAC) system, as well as low-friction hull paint.
The LMG 120-DEH design also features a vehicle deck and accommodation arrangement that enables fast and safe vehicle loading, improved safety for crew and passengers, as well as other benefits.
Upon completion, both vessels will be able to carry 296 passengers and 120 cars each.
The 114.4m-long and 17.7m-wide vessels will also feature an efficient diesel-electric hybrid system.
In normal operation, the vessels will receive their entire power from two battery packs installed on-board, which can be recharged from the land grid in around 11 minutes.
The vessels will also be designed to use a fast-charging solution of pantograph or plug-in-type to maintain the required state of charge of the batteries.
In case of an emergency, they will use their on-board generating sets, which will run on 100% biodiesel.
Scheduled to be delivered in the last quarter of next year, the vessels will be deployed to serve the Festøya-Solavågen connection near Ålesund in Norway.
ReCAAP reports decrease in maritime piracy incidents in Asia
A report from the ReCAAP Information Sharing Centre (ISC) has revealed that the number of piracy and armed robbery incidents against ships at sea in Asia has decreased to 40 in the first six months of this year, down 15% from the same period last year.
The number also represents the lowest figure reported for the same period since 2009.
Of the 40 incidents reported between January and June, 29 were actual incidents and 11 were attempted cases.
Among the reported cases, 37 were armed robbery against ships while three were piracy incidents.
ReCAAP ISC executive director Masafumi Kuroki said: "Looking back to the number of incidents in 2017, which increased by 16% compared to 2016, the 15% decrease in the first half of 2018 compared to the same period in 2017 is welcome news.

"Nonetheless, continued vigilance by all stakeholders is an effective deterrence to maritime crime and we urge heightened measures to be taken in the areas of concern."
The half-yearly report also showed that no actual incident of abduction of crew or theft of oil cargo was reported during January and June.
There was a decline in the number of incidents at ports and anchorages in the Philippines, while successful arrests have been made and stolen items recovered during the same period.

However, the report found that the Singapore Strait reported four cases compared to two in the January-June period last year.
Ports and anchorages in Vietnam also witnessed an increase in incidents, up from zero in January-June last year to two cases in the first half of this year.
One attempted incident of abduction of crew was reported in the Sulu-Celebes Sea, while another attempted incident of theft of oil cargo was registered during the period.
MPA and Port of Rotterdam renew R&D partnership
The Maritime and Port Authority of Singapore (MPA) has renewed an existing memorandum of understanding (MoU) on cooperation in information exchange and research and development (R&D) with the Port of Rotterdam Authority (PoR) in the Netherlands.
As a part of the MoU, originally signed in 2015, MPA and PoR have been working together in multiple areas, including maritime cybersecurity, liquefied natural gas (LNG) bunkering and next-generation vessel traffic management systems.
The agreement will extend the collaboration to the fields of port digitalisation, services, safety and operations, as well as handling of autonomous vessels in the port.
PoR CEO Allard Castelein said: "In a rapidly changing world, it has become more important than ever to join forces with other international partners to see how we can make our ports better, safer, smarter and more efficient.
"This renewed Memorandum of Understanding between the MPA and PoR is a good example of this. Together, we are working on the port of the future by exchanging knowledge."

PoR primarily intends to develop, manage and exploit the Port of Rotterdam in a sustainable way, as well as offer quick and safe services for shipping activities.
MPA chief executive Andrew Tan said: "This renewal of the MoU between PoR and MPA reaffirms the commitment of both parties to jointly collaborate and exchange best practices and new ideas.
"Collaboration in maritime cybersecurity, LNG bunkering and innovation not only fosters partnerships between MPA and PoR, but also benefits the maritime innovation ecosystem."
MPA signed a total of seven deals in April with local and international partners to improve Singapore's connectivity and boost maritime R&D capabilities.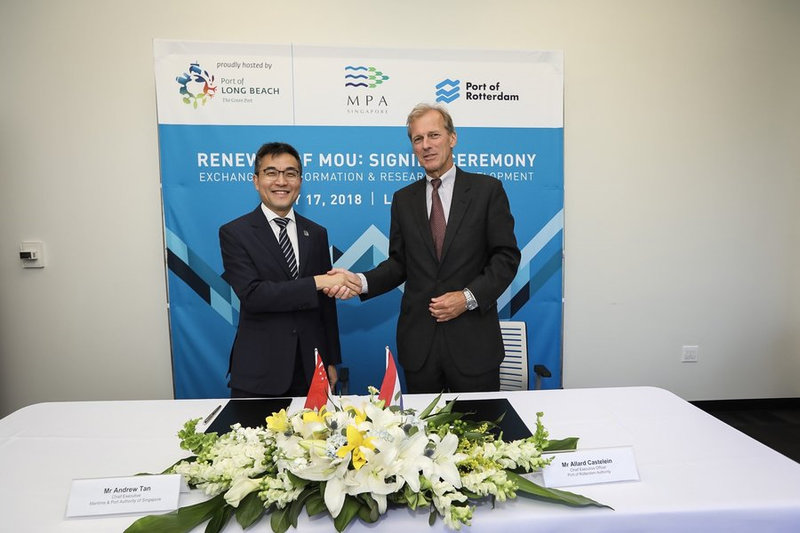 DoT Abu Dhabi and DMCA partner to develop UAE's maritime sector
The Department of Transport (DoT) in Abu Dhabi has signed a memorandum of cooperation (MoC) with Dubai Maritime City Authority (DMCA) to develop the United Arab Emirates' (UAE) maritime sector.
The agreement is aimed at supporting the development, consolidation and regulation of the country's maritime sector based on competitiveness, sustainability, excellence and innovation.
The MoC is also expected to pave the way for effective strategic partnerships between the two parties and also boost UAE's position in the global maritime industry.
DMCA chairman and Dubai Ports World (DP World) group chairman and CEO Ahmed bin Sulayem said: "We look forward to a positive change within the local maritime sector and activating its contribution to meet the needs of the ambitious development process.
"This is what we aspire to achieve through the signing of this strategic memorandum, which is a big step towards integration of maritime safety, navigation and operational efficiency along the local coasts to establish a renewed and secure maritime sector capable of meeting the requirements of sustainable economic development in Dubai and the UAE."
As part of the latest deal, DoT Abu Dhabi and DMCA will work together to develop licensing procedures for maritime means, permits and maritime approvals, in order to implement the best procedures and provide improved services to customers.
The MoC will also see the development of a regulation and monitoring mechanism allowing DoT Abu Dhabi and DMCA to jointly handle violations and marine accidents related to sea transport and water-powered motorbikes.
Both parties have agreed to launch joint efforts to strengthen knowledge and develop Emirati cadres in the maritime transport sector, in line with UAE's objectives of the Vision 2021.
Multiple ship groundings and collisions send Suez Canal into chaos
Egypt's Suez Canal, one of the busiest waterways in the world, is experiencing traffic mayhem after a series of ships grounded or collided in its waters in the space of two days.
The canal is currently struggling to bring operations back to normal, with local media reporting that five vessels were involved in the accident, which eventually led to a standstill on Sunday.
Aeneas, a 63,059dwt containership, has been identified as the vessel that first caused an interruption of operations after it grounded during its transit due to engine failure, according to initial reports.
The three bulkers following the Aeneas failed to react in time and collided with the stricken vessel. CAG Egypt says the fleet was towed to Suez's outer anchorage by Suez Canal tugs on Monday morning and the canal was cleared.
CAG reported: "Some of southbound ships that had been behind the grounded vessel cleared the canal. Only four were detained and resumed their transit at 0300 hours today (17 July)".
However, the southbound ships had not been fully removed before another incident took place: the Panamax Alexander, a 39,929dwt bulk carrier, grounded, which forced two other bulkers, Sakizaya Kalon and Osios David, to anchor in the same area. According to the Suez Canal Authority (SCA), the grounded bulker was then re-floated and has since reached the Great Bitter Lake.
Although the canal should be ready to restart operations today, the authority says that dozens of ships have already been delayed, and new transit arrangements are yet to be revealed.
As of today, the 18 ships that were affected by the chaos on Monday have now resumed their voyages southbound and will exit the canal later today. However, six vessels that entered the canal northbound are currently waiting at the Great Bitter Lake, with a further 12 ships still anchored in Suez.
GAC reported that 25 vessels scheduled to start their northbound journeys today remain at Suez anchorages awaiting the SCA's approval.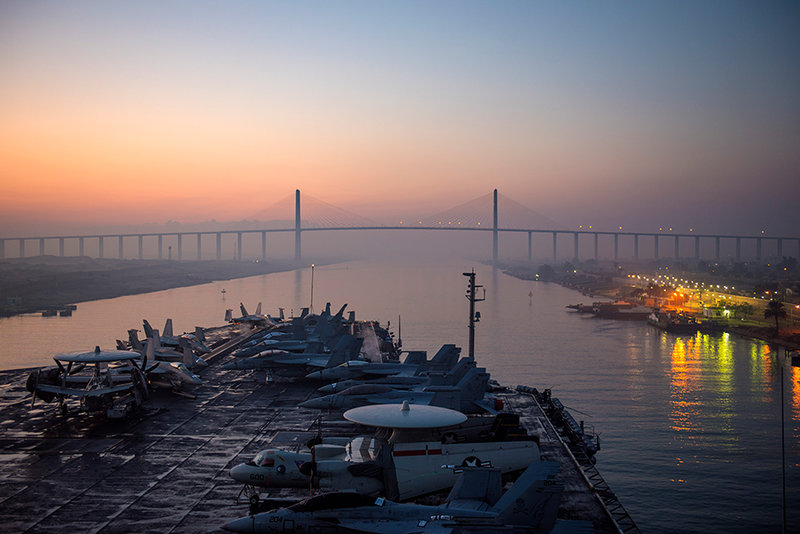 TUI Cruises selects Fincantieri to build two LNG-fuelled ships
TUI and Royal Caribbean Cruises joint venture (JV) TUI Cruises has chosen Fincantieri to build two liquefied natural gas (LNG) powered vessels.
To be built at Fincantieri's shipyard in Monfalcone, Italy, the vessels are scheduled to be delivered in 2024 and 2026, respectively.
Each vessel will feature approximately 161,000t capacity, as well as include solutions to reduce fuel consumption and environmental impact in compliance with new industry regulations.
The vessels will also be built on a prototype project developed by Fincantieri to improve the existing features of modernity and sustainability of TUI Cruises.
TUI Cruises CEO Wybcke Meier said: "With the new class of ships, we are responding to the wishes of our guests and creating offerings that will also inspire new cruise passengers. As with the other ships in the fleet, the passenger/space ratio remains generous.
"The decision to run the two additional low-emission newbuilds is a logical continuation of our environmental strategy."
TUI Cruises plans to commission two ships by 2019 and 2023, with a total bed capacity of nearly 18,800t.
Based in Hamburg, Germany, the company has been providing cruise services since May 2009.
Fincantieri CEO Giuseppe Bono said: "These will be the largest ships ever built in Italy: we proved once more we can provide the market with the best mix of reliability and innovation, pillars of Made in Italy and distinguishing features of Fincantieri in the global shipbuilding landscape.
"The project we developed and offered to the client allowed us to achieve this outstanding commercial record, which is not just about adding a new brand to our client portfolio, but also a confirmation of the absolutely cutting-edge technological content of our products."

Earlier this month, Fincantieri unit Vard won a contract to design and build one luxury expedition cruise vessel for German cruise company Hapag-Lloyd Cruises.
Jamaica passes bill to manage ship ballast water
Jamaica's House of Representatives has passed legislation to manage ship ballast water.
The new Ballast Water Management Bill aims to introduce a number of measures to prevent ships from injecting foreign aquatic species and diseases into the country's water.
To be administered by the Maritime Authority of Jamaica, the bill will regulate the process of discarding ship ballast water and will ensure compliance with global standards.
With the bill, Jamaica also aims to show its commitment to the International Maritime Organization's (IMO) Ballast Water Management Convention, which the country is also a signatory for.
Jamaica Transport and Mining Minister Robert Montague said: "The transfer of invasive aquatic species in the ballast has contributed to the collapse of fisheries, the increased risk to the spread of cholera and shellfish poisoning in humans.
"In Jamaica, the introduction of Asian green mussels found in the Kingston Harbour has been identified by the University of the West Indies as having been introduced into Jamaican waters via ballast water."
Montague further noted that nearly ten billion tonnes of ballast water is transferred globally on an annual basis, while around 10,000 species, including invasive aquatic creatures, are carried each day in the ballast tanks of ships.
Jamaica is estimated to receive about 2,400 ships at its ports per year, which discharge their ballast water prior to the loading operation.
Montague added: "Ships are required to carry on board a ballast water management plan and a ballast water record book.
"Additionally, based on their date of construction and the size of their ballast water tanks, ships are required to exchange their ballast water in accordance with the legislation or install ballast water treatment systems, which will prevent, reduce or eliminate invasive species and pathogens."
A penalty of up to $30m is set to be levied on entities that fail to comply with the Ballast Water Management Bill.