Clear skies ahead:
boosting maritime safety through predictive analysis
With increased sea traffic and the threat of climate change, the stakes with respect to weather have never been higher. Varsha Saraogi dives deeper into Spire's weather forecasting technology, which uses radio wavelengths to predict sea climate, and finds out what impact this could have on shipping.
Despite being hardly
a new concept, maritime weather forecasting is a crucial component to preventing accidents at sea. In 1859, it would have helped predict a severe storm in the Irish Sea, which caused a British Royal Charter steam clipper to sink resulting in the loss of 800 lives. Nevertheless, this event inspired Vice Admiral and founder of the Met Office Robert FitzRoy to start publishing a tentative series of weather forecasts in 1861 in an attempt to communicate weather information to seafarers.

As time went by, FitzRoy then conceived the Shipping Forecast - a public service used to warn of storms through an electric telegraph that was used until radio became available in 1920.

Today, extreme weather has become more frequent due to climate change, with higher chances of hurricanes, flooding and other phenomena putting seafarers' lives at stake. As a result, forecasting weather elements including sea state, surface winds, and tide levels before setting sail has become increasingly important.

Considering that the weather forecasting market is estimated to reach $3.3bn by 2025 according to MarketsandMarkets, it's no secret that seafarers today can access many more sources of meteorological data. Advances in data processing and predictive analytics have spurred start-ups and established companies such as Oldendorff and Maersk to get into this market.

Among them is data analysis firm Spire Global, which recently launched its flagship product, Spire Maritime, specifically dedicated to developing satellite data solutions for the maritime industry. The San Francisco-based start-up recently launched a fleet of its own CubeSat satellites to track ships by analysing radio wavelengths and gather atmospheric and oceanographic weather attributes, including sea surface temperature, ocean currents, wave height, surface wind, and air temperature.

In the words of Spire vice-president John Lusk: "[Spire] addresses the number one problem businesses will face in the next 100 years – our ever-changing climate."
Using satellite technology to optimise routes
Despite traditionally specialising in space technology, the company has recently moved to maritime. Its technology uses sensors to detect and analyse radio signals sent by GPS satellites through the atmosphere, capturing precise information on sea temperature and pressure.
Ships are tracked and monitored using an automatic identification system (AIS) data and application program interface (API).
Each CubeSat satellite collects and transmits weather data 10,000 times a day — six times more frequently than older models, Lusk says.
"[Our] Maritime Weather API utilises the data collected from Spire's 84 satellites to provide a highly valuable 1/8th-degree resolution forecast for all oceans and seas," Lusk adds. "The API enables shipowners to ingest climate data and match it with where vessels are located."
Each CubeSat satellite collects and transmits weather data 10,000 times a day
As a result, the data collected through the AIS allows for "higher optimisation on challenging routes such as the Red Sea's Tokar Gap," Lusk affirms.
In addition, Spire's satellites use signals from the European Union's space-based Galileo navigation system to enhance their predictions.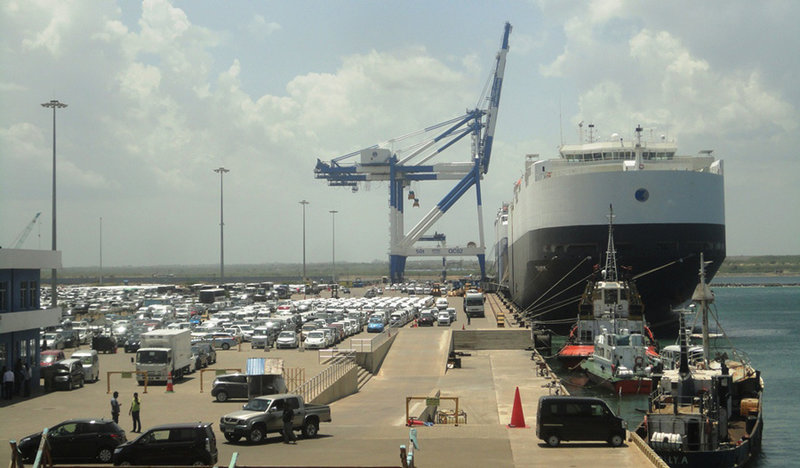 Collecting ship data and tracking weather with radio signals
Lusk explains that the reason behind their decision to collect data through radio wavelengths is that having more radio satellites in orbit considerably improves data resolution, ultimately making information more accurate. Alternative solutions that use visual wavelengths require larger lenses on individual spacecraft, making it more expensive.

Lusk describes this procedure, which is known as radio occultation (RO), as a "unique ingredient" and a "critical must-have in the maritime industry where a lack of weather data and accurate forecasting is having a massive economic impact".

Radio occultation data augments the accuracy of weather forecasts
"RO data augments the accuracy of weather forecasts, by measuring the refraction of radio signals beamed through Earth's atmosphere," he says.
He also mentions that the UK Met Office, NASA and the US National Oceanic and Atmospheric Administration are some meteorological agencies to have signed up to use Spire's data.
Tackling issues such as reducing accidents and mitigating costs
According to Lusk, the current challenge facing the industry is the lack of data on initial observations. "The Pacific Ocean is huge and is currently served by one or two meteo satellites providing images on top of a handful of buoys and balloons," he says.
This is why he claims that Spire's satellites could be "a game-changer" in terms of safety at sea: "Imagine an 80-satellite constellation with tens of thousands of scans and balloons per day over the entire pacific ocean of the entire atmospheric column."
Alongside tracking weather conditions – which could reduce accidents and save lives – Lusk says the technology can also help "save the environment, reduce fuel consumption while increasing operational efficiencies" by optimising route planning.
Our data can assist in optimising ventilation of cargo holds to prevent cargo damage
In addition, Spire's weather forecasting tool could help turn the tide on the prevention of cargo sweat – potentially damaging condensation that appears on cargo being shifted from warmer to colder temperatures. As Lusk details, "Shipowners need to know how best to ventilate based on relative humidity and dew point temperature forecasts.
"Our data can assist in optimising ventilation of cargo holds to prevent cargo damage."
Finally, Spire's technology could be used to track ships involved in the trafficking of arms, drugs, and illegal commodities.
How data collection and analysis is changing maritime
While technology is ubiquitous in most industries, the maritime sector has been slow to embrace it. As Lusk puts it: "The shipping industry, historically, has been a laggard when it comes to technology innovation and digital transformation."
However, he adds that looking forward, the industry will be transformed through machine learning and data analysis. "Data is quickly becoming a part of everyday life in maritime," he says. "From ship route and weather forecasting, to tracking accurate arrival times, data is changing maritime."
Data is quickly becoming a part of everyday life in maritime
Seeing that many more shipping companies are increasingly using modern technologies, Lusk is bullish about the company's future prospects, and concludes that the opportunities to utilise predictive data "combined with our analysis and algorithms, [will] fundamentally change, and improve operational efficiencies within the maritime industry."