Going a cut above and Beyond
Celebrity Cruises' new ship, Celebrity Beyond, has a strong health and wellbeing focus, with a host of spas and fitness offerings. Frances Marcellin gives a roundup of the launch of the vessel.
When I sit down with Brian Abel onboard Celebrity Beyond, I marvel at the level of design and attention to detail that covers every inch of the 237m/1,073-ft ship. She is 21m longer, one deck higher, and can welcome 350 more people (3,260 overall) than sister Edge-class ships, Edge and Apex.
Abel explains that he and CEO Lisa Lutoff-Perlo were making changes up to the last minute before press and travel agents joined the "shakedown cruise" ahead of her maiden voyage from Southampton on 27th April 2022. "It's all about the details," he enthuses. "We know that 95% of the ship is perfect, but we worked to find that last 5% to make it 100."
Perhaps the most substantial change was to French Chef Daniel Boulud's luxury restaurant Le Voyage – the fine dining experience of the 32 food and beverage options on board. Boulud has a two-star Michelin restaurant in New York, called Daniel, and six others around the world, but this is his first restaurant at sea.
Blending elegant peach and earthy hues and designed by the Jouin Manku studio – the creative team behind Jules Verne at the Eiffel Tower – some of Boulud's seating areas are delicately cocooned by the nautical-inspired string "walls" that balance a sprinkling of gems.
"Those strings were originally a different material, which closed up the space, so we replaced it," says Abel. "It's more open now, which also improved the lighting."
A residential feel of relaxed luxury
Lutoff-Perlo describes the ship as "approachable, relaxed luxury" with the Gen X demographic being a "sweet spot". Boomers, Millennials, and Gen Z are also customers, but Abel tells me that "it's more about finding the affluent traveller with the right mindset".
For Lutoff-Perlo, design decisions were driven by how the result would "feel". Design is one of five main pillars that Beyond was conceived around, along with destinations, accommodations, culinary, and wellness.
"It's much easier to market and articulate features, such as 'I have the tallest this or the biggest that', like some of our competitors out there," she says. "But it's important that you take away how you feel."
"This is the first reason we wanted to partner with [British interior designer] Kelly Hoppen," she added. "It is how her stateroom design made you feel – and how different it is from every other cruise brand in the world."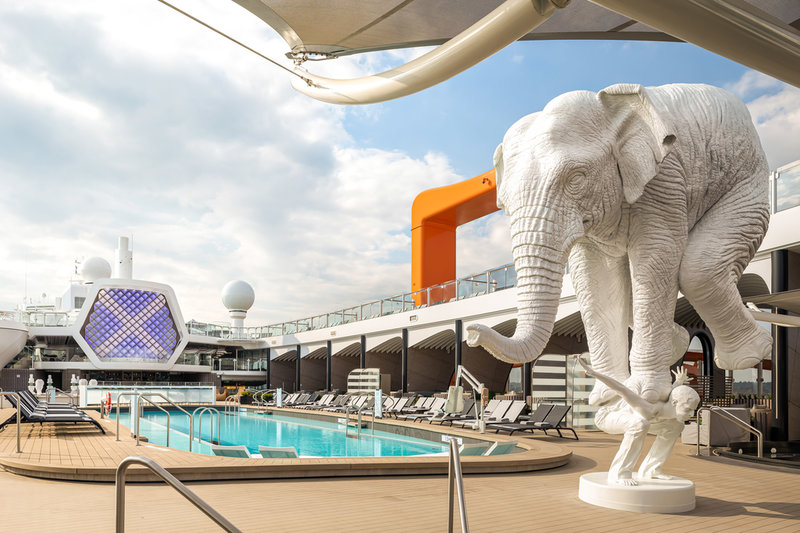 The vision of world-renowned designer Kelly Hoppen CBE, the Resort Deck is a stunning asymmetrical space featuring a 25-yard lap pool complete with in-pool loungers and surrounded by a terraced pool deck.
American interior designer Nate Berkus was brought in to create the new Sunset bar (180% bigger than previous iterations) and British architect Tom Wright added to his existing designs from Edge to expand the Rooftop Garden as well as adding cantilevered float pools.
Abel says that the ship was designed to have a residential feel: "We wanted to make sure that the entire Edge class didn't feel like a cruise ship. We tried to look at what four or five-star resorts are doing on land."
Abel spent much of his pre-Celebrity career in the hospitality industry, including nine years at Starwood Hotels and Resorts. The Four Seasons, One & Only, and the Wynn Hotel are just a few of the brands that he draws inspiration from.
Designed to connect with the sea
The first time you step into restaurant and nightclub Eden, it feels unlike anywhere else on land or on sea. On entering, you pass Jackie Head's Sea of Flowers, an installation of over 900 glazed ceramics – just one of 700 artists and 4,500 artworks on board Beyond – and then stunned by a vista of three decks-worth of windows and blue ocean views.

Elegant biophilic interiors transport you into a luscious garden – of Eden. That is when the name starts to make sense – even more so when I step onto the deck and spy a giant red apple sculpture.
It's fun too: there are swings, flower chairs, and planted walls. Luminosity is sky high during the day, but at night the windows form a black backdrop for nightlife to commence. Later, a quirky musical acrobatics show beguiles all by featuring gravity-defying aerialists performing from the chandelier.
New to the ship are AquaClass SkySuites, an immersive living experience that features floor-to-ceiling ocean views, private verandas, luxurious bedding and other wellness amenities.
The emphasis here is very much on connection with the sea and this is a theme that is echoed through the ship. "Connecting to an ocean of water gives you a sense of calmness," says Abel. "That's why we have all our lounge chairs facing the ocean."
Beyond's emphasis on wellbeing and wellness is one of the reasons that The Retreat's sundeck was increased by 40% – here all the sunbeds face the water. This "sanctuary at sea" is reserved for AquaClass guests, which provides a lifestyle on board that is dedicated to wellness.
Gender equality, fitness focus, and woven-in wellness
"Wellness is so fundamental to our philosophy at Celebrity Cruises, that we continue to build and grow a truly special onboard experience where it is woven into every aspect of the guest journey from the stateroom to the spa," said Lutoff-Perlo.
The team chose successful female entrepreneurs from the fitness industry to guide the "mind, body, soul" wellness experience on board.

Together they make up the first ever women's wellness panel at sea: Katie Brauer, founder of the Yoga Professional; Noella Gabriel, co-founder and president of luxury skincare company Elemis; Kiki Koroshetz, the wellness director at goop; Morgan Mitchell, Australian sprinter and F45 training athlete; Kimberly Snyder, founder of Solluna; and Ruth Zukerman, co-founder of SoulCycle.
With such positive female and people-focused culture, it is fitting that Captain Kate McCue, the first American female cruise ship captain, was asked to helm Beyond. In 2020 on Celebrity Edge, McCue established the first all-female bridge and officer team.

Olympic gymnast Simone Biles has been made godmother of Beyond, another inspirational female role model to join Malala Yousafzai, godmother of Edge, and Apex's godmother Reshma Saujani, founder of Girls Who Code. Biles said that she was "honoured to join such a distinguished group of game-changing women".
The Retreat is an exclusive resort space for suite guests designed by Kelly Hoppen CBE. The new two-level Retreat Sundeck offers secluded cabanas, chic seating, water features, and the Retreat Bar.
At the section of the ship called The Retreat, fitness facilities and spa combine to create a powerful wellness offering. From the undulating running track, to the vast Technogym-equipped fitness centre, everyone from beginners to athletes can be active on board.
Fitness fans will be pleased to discover HIIT, LIT (bungee fitness), Ryde, cardio boxing, Barre, and Peloton (Iconic suite guests can have a Peloton installed in their room). There's also a dedicated F45 training studio – the company recently announced new football-inspired workouts from F45 partner and investor David Beckham.
For a zen experience, yoga, meditation, and breathing classes are also available on demand. Nutrition consultations, personal training and the chance to assess your body's composition using the InBody570 system – which provides measurements of muscle mass, body fat mass, and inflammation – are at guests' fingertips.
Just like high-level hotels, however, if you prefer to work out in private, AquaClass staterooms also offer an in-room fitness menu. "There are five different categories, including strength, meditation, and yoga, so you can pick items to be delivered to your room, such as a yoga mat or dumbbells," explains Abel. There are also workouts available on demand through the stateroom's television.
Clean cuisine and memorable spa experiences
Blu, a restaurant favouring plant-based cuisine, is available exclusively to AquaClass guests. The spa café is an excellent place to find freshly-made juices and healthy lunches – the Thai-inspired udon noodle salad packs a punch and is divine.
Celebrity Beyond's spa, like the other Edge-class ships, is created in collaboration with OneSpaWorld. Coveted skincare products from goop (Gwyneth Paltrow is also Celebrity Cruises' Wellbeing Advisor) and Elemis are also used within the spa.
Access to the SEA Thermal Suite is included with AquaClass – otherwise a day pass is needed, but only 40 are issued daily. Spa experiences include the mist room, rainfall water therapy, the crystalarium, hammam, and the infrared sauna – this space has floor to ceiling windows overlooking the ocean and delivers an unforgettable spa experience.

Blu features fresh, creative cuisine complemented with sustainable wines. Credit: Frances Marcellin
There are over 120 treatments offered in the spa, including the first-at-sea MLX i3DOME, a three-in-one, ultra-effective detox and skin rejuvenation treatment table. But according to the spa team, acupuncture is the most in-demand treatment on Edge-class ships with some guests having treatments every day.
During the shakedown cruise, Elemis held the global launch for its new anti-blue light skincare product, Pro-collagen Morning Matrix. It is being rolled out on Beyond first and will then continue across the rest of the fleet.
"In the modern world, everyone is on their phone experiencing blue light as well as high-stress levels, both of which impact skin," explained Oriele Frank, co-founder at Elemis. "These two factors are what motivated the development of this product."
Sleep is key to good health, and king-sized cashmere mattresses and a pillow menu are part of the sleep offering for guests. Technology is used to enhance the feeling of in-room wellbeing. Celebrity's app acts as a smart remote for controlling lighting and temperature – and it can even open the stateroom door. If you press 'morning', the veranda blinds open and at night you can turn all the lights off gently by pressing one button on the app.
Subtle smart technology and the right balance
For Abel the most important aspect of the app is that it reduces friction where necessary for the client. "The big thing is that it removes friction – you can easily check-in online," he says, adding that guests can also make dining and shore excursion reservations through the app.
"With technology, for me, it's more about how does it enhance the guest experience? It's about how to have a good experience and how to enhance it – it's about finding the right balance," he adds.
Beyond appears to have hit the right balance across all its five pillars – so much so that Lutoff-Perlo wants this new ship to inspire her legacy.
"What I want is for people to stop saying 'cruising is not for me' – you can't come on this ship and say cruising is not for me, it is impossible," she says.
Main image: The third ship in Celebrity Cruises' award-winning Edge Series, Celebrity Beyond. Credit: Beyond Cruises