Viking Cruises christens new river longships in Paris
In the company's 25th anniversary year, Viking Cruises continued celebrations with the launch of 8 vessels on the Seine, and there's plenty more to come, as Frances Marcellin reports from the launch.
On 17 March 2022, Viking Cruises christened eight new longships on the banks of the Seine in the heart of Paris. Four of those river ships, Viking Kari, Viking Radgrid, Viking Skaga and Viking Fjorgyn, were designed especially for this river and have been granted an exclusive mooring at the 14th arrondissement's Port de Grenelle.
This convivial event formed the first tranche of Viking Cruises' 25th anniversary celebrations throughout 2022 and marked the first international press event that the company had held in two years, due to the pandemic's disruption.
It's a big year for the cruise company, which started with the launch of Viking Expeditions and its first Polar-class vessel in January 2022, Viking Octantis. By the end of the year a second expedition ship should have been launched, as well as two new ocean ships and purpose-built ships for the Nile, Mekong, and Mississippi rivers. 
"It seems very fitting to be launching our eight new river ships in Paris in the Spring, a time for new beginnings and the naming ceremony marks a major milestone for us as a company," says Wendy Atkin-Smith, managing director of Viking UK.

"By June this year Viking will have launched 16 new ships since the start of the pandemic, which I believe is an extraordinary achievement, given the circumstances."
Designed for the Seine
Arriving in my stateroom, I notice that I can see the Eiffel Tower from the veranda's balcony. It is only a ten-minute walk away. Later on, Torstein Hagen, founder and chairman of Viking Cruises, explains that he and Tony Hofmann, SVP of operations of Viking River Cruises, had quite a battle to secure the coveted spot.
"Tony and I fought for the last seven years to have the preferred docking location right here," smiles Hagen. "It took a lot of effort."
Each of the four 125m-long Seine Longships have customised hulls and engines that have been designed for the Seine. They can accommodate 168 guests in 84 staterooms (22 standard staterooms, 18 with French balconies, 35 veranda Staterooms, seven veranda suites and two explorer Suites) and have 46 crew.
Views of and from the Viking Radgrid as it makes its way along the Seine. Credit: Frances Marcellin
Viking Radgrid is the ship I will be staying on for the next few nights. Following the christening, I'll be experiencing a sample of the Paris & the Heart of Normandy itinerary.

This cultural and historical French immersion takes place over eight days, stopping in La Roche-Guyon, Rouen, the Normandy Beaches, Les Andelys, and Le Pecq. On our mini version, we will explore Paris, La Roche-Guyon, and then sail to Vernon, where we will visit Giverny, the village in which Monet lived, before heading back to Paris.
Although the river ships are what Hagen prefers to describe as "understated elegance" instead of "luxury", the stylish Nordic-inspired design is suited to the affluent traveller aged 55+. Hagen is proud to admit that he has sat on every single type of chair that exists on board, a good example of the attention to detail that has been rolled out across the river and ocean fleets.
"Designers design and want things to look good, but chairs should be comfortable," he says. "For those who reach a certain age, it is also nice to find an arm rest to get up – these are small things when you know who your guests are. And when the ships are identical you just need to get it right once."
People say the ship is the destination, but I say the destination remains the destination.
Whilst the ships are popular – voted number one river cruise line by readers of Condé Nast Traveler in 2017, 2018, and 2020, and number one by Cruise Critic's Cruisers' Choice Awards in 2019 – Hagen is keen for the spotlight to remain on the destination.
"People say the ship is the destination, but I say the destination remains the destination – so Viking is the world's leading destination travel company," he says. Dining on Viking Cruises – whether ocean or river – is almost always linked to the destination and often highlights speciality dishes or ingredients for which the area is known.
The following morning we're whisked off to the Louvre where highlights include seeing the Venus de Milo, made for Louis XVIII, and the Mona Lisa. We return by coach to Le Pecq and the compulsory muster drill takes place on deck under a sunset of amber and purple skies. As we start to move, I observe how quietly and smoothly the ship sets off due to the diesel/electric engine, which also reduces vibrations.
A different choice of future fuel
Viking Cruises is not a company that likes to jump on the bandwagon, and this is also the case for its stance on sustainable fuelling across its river and ocean fleet.

While many ocean-going cruise lines are opting for liquefied natural gas (LNG), Viking Cruises does not see it as the right direction. This is because LNG is mostly methane, which has 80 times more warming power than carbon dioxide over the first 20 years of being in the atmosphere.
"Future fuel is very important and when we designed the ocean ships they were going to be LNG – we almost went there," he says. "We decided instead to go for a ship with heavy fuel oil/marine gas oil and scrubbers or catalytic converters. We see many go for LNG, but this is another word for methane, which is one of the biggest dangers in the world today."
Viking Cruises does not think that LNG is a solution for the future, not even a temporary one, believing instead that "hydrogen is a very viable fuel".
We see many go for LNG, but this is another word for methane.
On our river cruise, shore power is available at 13 docking sites and there are solar panels on the top deck, in a bid to reduce emissions as much as possible. While sailing from La Roche Gyen – which is home to a chateau and 12th century hilltop castle keep – I meet captain Francois Bertin in the wheelhouse.

During the eight-day itinerary there are many locks to pass through and he explains that the narrowest is 12m wide. Fortunately, Viking Radgrid is 11m 45cm wide.
I learn that at the press of a button, the wheelhouse can drop down by 3.55m in order to travel safely under some of the 135 bridges on the Paris to Rouen route – 69 downstream from Paris to Rouen, and 66 upstream, from Rouen to Paris.
"In the case of normal water level on the river, we need to put down the wheelhouse for about 11 bridges between Paris to Le Pecq," says Bertin, adding that sometimes near Rouen, due to tide impact, it might need to be lowered again for a further six bridges.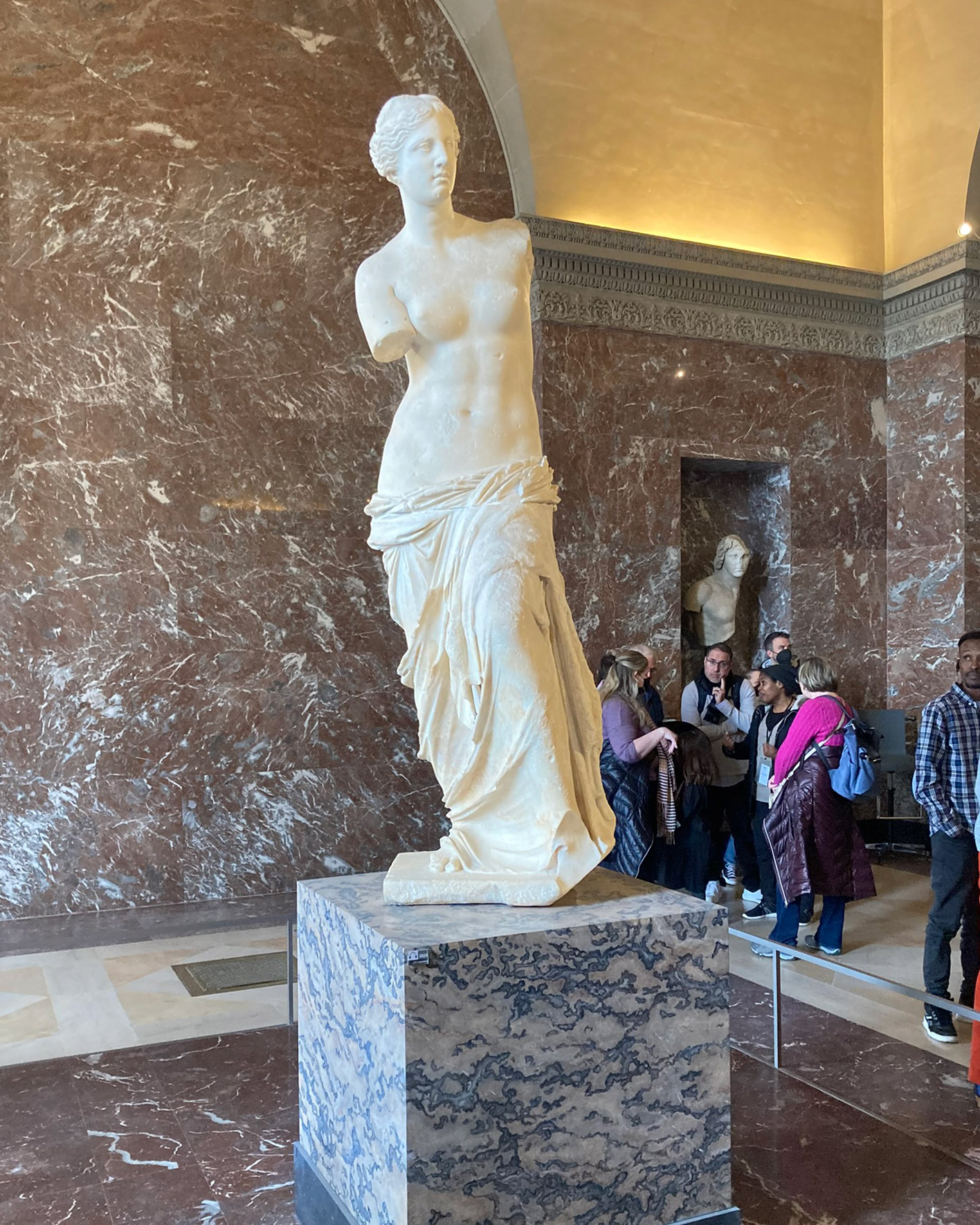 Excursions offer the chance to see some classic art, such as the portrait of Marie Antoinette at Versailles (L) or the Venus de Milo at the Louvre (R). Credit: Frances Marcellin
Between 1 April and 1 November, excursions at Vernon take passengers to visit Monet's pink-bricked home and gardens. At Le Pecq you can visit the chateau where Napoleon lived out his last days in France, and back in Paris excursion options include Montmartre or the Palace of Versailles.
Our cruise was topped off with a moonlit tour of the twinkling Eiffel Tower by Parisian river boat – the "Paris by Night" excursion will be available for guests from 2023. The company recently announced the land-based extension to this Paris/Normandy itinerary, "Paris: A Culinary Experience", which will explore the cuisine in the French capital.

Over the course of this three-night extension, guests will stay at a city hotel and spend time learning how to cook French dishes and taking part in cuisine-inspired events and activities.
As the cruise industry picks up again, Hagen was pleased to share Viking Cruises' momentum and successes so far while coming out of the pandemic.

While 2019 was previously the company's best year, so far capacity for 2023 is at 31%, far higher than the 21% at the same point in 2019. Similarly revenue growth was NCR1.9bn ($192.9m) in 2019 and for 2023 it has increased by 47% to NCR2.8bn ($289.4m).
"We are looking to 2023 with great deal of optimism," concludes Hagen.
Main image: One of Viking Cruises' new longships sails on the Seine in Paris. Credit: Viking Cruises