YOU SHOW THEM THE WORLD, FARSOUNDER LEADS THE WAY
Expedition cruising is a smart investment in the future for cruise lines. It is clear that passengers are wanting unique experiences and unspoiled landscapes. The challenge is charts throughout polar regions and tropical hideaways are limited at best. To mitigate the risks associated with this challenge, companies must look at going beyond what regulations require and add extra high-tech equipment to ensure safety of their vessels and passengers and crew.

FarSounder makes true world exploration possible. As the world leader in 3D Forward Looking Sonar [FLS] systems, this system is the only FLS that provides an image of what is along the bottom and in the water column in 3D and in real-time. Having one of these sonars as part of the navigation suite enables the bridge crew to identify potential hazards up to 1000 meters ahead of the vessel. This gives them the time to adjust course as needed and sail ahead with confidence.
Radar, depth sounders, ECDIS, and electronics charts with GPS are missing an important piece of information: What is under the water in front of my ship right now? The FarSounder navigational sonar systems provide this missing piece of the puzzle. Charts don't know what has changed on the ocean floor; radar can't see through water; and depth sounders only look down.
Taking a passenger ship into an area where bottom contours shift, and charts are not easily updated is risky. In addition, there may be icebergs, lost shipping containers or storm debris in the water column. One effective way to know what is ahead while underway is making an investment in latest FLS navigation equipment.
INTEGRATE WITH WÄRTSILÄ SAM NACOS PLATINUM
This user-friendly technology is fully integrated with the Wärtsilä Sam NACOS Platinum bridge. Bridge crew have the convenience of seeing and controlling FarSounder 3D sonar from their work stations. It couldn't be easier to monitor challenging waters ahead than with this seamless system.
When you can see ahead of the ship under the water, the risk of accidents and groundings are greatly reduced. This means minimized ship downtime, avoidance of injury to passengers and crew, and reduction in environmental penalties. Cruise companies and captains can breathe easy knowing that their ship and passengers are safer with a FarSounder Forward Looking Sonar providing operators a 3D real-time image of what is ahead of the vessel under the water.
FarSounder sonar systems now include a innovative technology called Local History Mapping (LHM)™. In addition to having the benefits of 3D real-time forward-looking sonar, this new capability builds a 3D map of the seafloor as you sail. This map is updated with every ping and is displayed as an overlay on top of your chart. When used together with the real-time sonar overlay, you can quickly see what lies ahead and what you've recently passed over. LHM capabilities are included as part of its standard navigation sonar software starting with SonaSoft™ 3.3.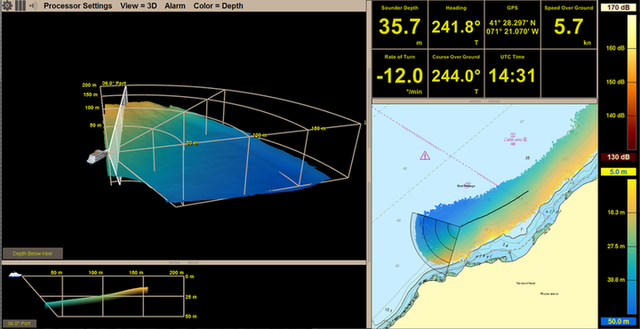 Due to the unique performance characteristics of FarSounder's forward-looking sonar systems, Local History Mapping™ is based on a bathymetric survey engine that was developed in-house from the ground up. The Company has also invested heavily in the database infrastructure associated with the storage and integration of large survey datasets. These investments will accelerate the release of additional bathymetric mapping capabilities.
LHM™ is based on a bathymetric survey engine. The map is updated with every ping and is displayed as an overlay on top of the chart. A single pass of a FarSounder 3D forward-looking sonar with LHM™ can survey a much wider swath of the seafloor than with a standard echosounder. Displaying the survey as an overlay on top of an electronic nautical chart, makes it easy for the bridge crew to visualize the vessel's current location. Operators would be able to orient the vessel relative to any features or obstructions found within the survey. It would assist even when the obstruction is not within the current field-of-view of the sonar's real-time display.
DATA COLLECTION PARTNERSHIP WITH IHO
Our world's oceans cover 70 percent of the Earth's surface, yet 95 percent of it is unexplored. The bathymetric contours and acoustic conditions found in the seas, oceans, and bays are complex. With so little knowledge and exploration of these challenging waters, it's near impossible to know what to expect. FarSounder sonars are designed to bring clarity in these conditions to ship operators. This way, these unknown hazards become transparent and the operator can avoid unnecessary collisions.
Because FarSounder is always looking to improve our products, we focused on improving algorithms and delivering new features (such as LHM), but also on exploring capabilities to extend knowledge about the marine world. We've doubled our efforts to assemble even greater amounts of sonar data from all around the world; so far with places such as Antarctica to the Panama Canal.
FarSounder is expanding their Sonar Data Collection Program to all of our FarSounder-500 and FarSounder-1000 customers. The expansion means that customers are supplied with an external USB drive which records raw sonar data. The drive is then sent back to FarSounder in order to do a variety of things such as: monitoring performance of the sonar when used by customers in their actual locations, improving performance of algorithms, and helping to expand on products mapping capabilities.
Recently, FarSounder became the first forward looking sonar company to be registered as a trusted node for the International Hydrographic Organization (IHO) Data Centre for Digital Bathymetry database hosted by NOAA. This sonar data collection effort is just one tool to help keep cruise ship's safe.
FarSounder users are regular visitors to the extreme corners of the globe, from the Northwest Passage to Antarctica as well as exotic tropical reefs and atolls. FarSounder has been working with select users to record and collect sonar data along their routes.
This Sonar Data Collection Program is now being expanded to all FarSounder-500 and FarSounder-1000 users. Ships participating in this program are supplied with an external USB drive, which records the raw sonar data. This data is input into a database and, with permission from the user, is shared with the IHO.