First look at Bolidt's new Innovation Center for the maritime industry
Dutch synthetic flooring and decking manufacturer Bolidt recently hosted an exclusive preview of its brand-new maritime industry Innovation Center ahead of its October opening.
Adele Berti

took a trip to Rotterdam to find out how the building will help Bolidt expand in the sector.
All image courtesy of Bolidt
It might have been
the sun warming up the Rotterdam riverside and shining against pristine glass walls on an early July morning or the fancy equipment displayed in the Exhibition Hall, but on its preview day, Bolidt's new Experience and Innovation Center was a sight to behold.
A 15m-high modern building located in a waterfront industrial area in the outskirts of Rotterdam, synthetic flooring and decking manufacturer Bolidt decided to open up its new hub to local and international media earlier this summer prior its official unveiling in October.
The building is meant to be an emblem of the manufacturer's aspirations in the maritime industry, as well as a meeting place for staff, ideal for brainstorming and business.
Established in 1964, Bolidt is globally renowned for developing synthetic flooring, decking and associated systems for vessels in various marine market sectors and is now particularly popular in the cruise and super yachts industries.
Over half a century later, one of the founders' sons and current CEO, Rientz Willern Bol, has placed his seal of approval on pioneering projects, including installing the world's first Ferrari race track at sea onboard Norwegian Cruise Line's Norwegian Joy, as well as developing glow-in-the-dark decking that harvests and stores solar energy and flooring with embedded LED lighting.
"Seven years ago, the company thought about how to proceed and adapt to society as a means of communication," Bol said at the preview event, as journalists sat on a seating balcony with glass floor overlooking the center's lavish auditorium.
"We decided it was time to create a place to come together to have a conversation, a place where applications, ideas and innovation could be fostered to create new solutions for our clients and partners and to find new ways to enhance existing products."
Dressed to impress: how Bolidt bids to conquer its clients
Bolidt's Experience and Innovation Center is a curious mix between a science museum and a tech brand's high-street store.
The bright, metallic grey skeleton of the building is simple and modern. It features glass walls both inside and outside the center, as well as exhibits and showcases the company's latest across its floors – which are themselves the focal point of attention.
Welcoming visitors and future clients is the bright and spacious Exhibition Hall, which is an auditorium featuring wall-high black curtains to create a starry night effect.
A number of interactive exhibits are spread around the room. Visitors can learn useful facts about Bolidt's work in person, using VR headsets, as well as through the colour and symbol-coded floor.
The bright, metallic grey skeleton of the building is simple and modern
After playing around with the company's cutting-edge technologies and learning about future projects, guests can discover Bolidt's global commitments in another interactive room. Here, a set of monitors hanging on a wall show footage of over 600 activities Bolidt is currently engaged with across four continents.
Lastly, for a company that has made significant use of materials – especially its trademark synthetics – throughout its more than 50-year history, it was crucial to showcase its progress and some of its most successful products.
On display next to the auditorium is, therefore, a set of memorabilia – ranging from raw materials to finished products and special projects – summing up some of Bolidt's most significant milestones.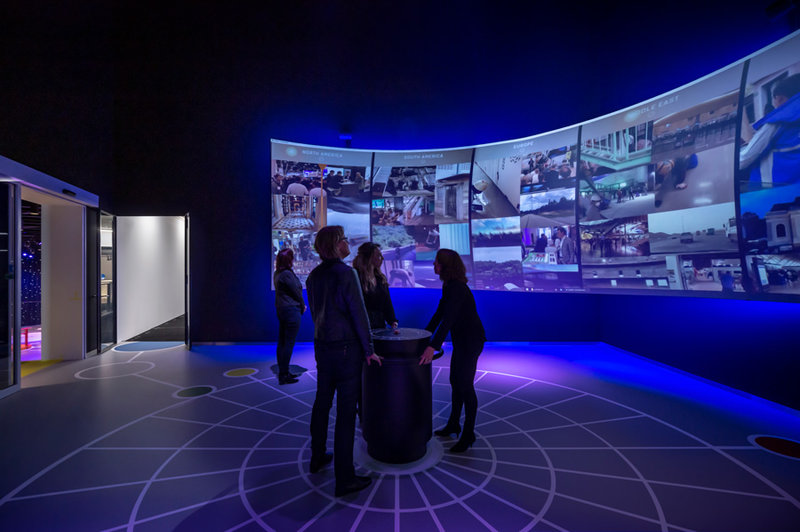 The element of surprise: Bolidt's R&D Hub and climate chamber
The most fascinating part of Bolidt's new center is the Research and Development (R&D) Hub, where specialists develop, test and create innovative solutions and materials.
This paradise for chemistry enthusiasts is placed at the heart of the building and entirely surrounded by glass walls for visitors to browse and observe.
The R&D hub has two main roles within the company; the first is to answer all technical questions coming from customers and staff about materials and their composition. The second is linked with improving Bolidt's sustainability credentials.
Most of the innovative work will take place behind closed doors at Bolidt's sister building
Guests will also be able to put together their own samples or conduct experiments under the supervision of specialists.
However, most of the innovative work – especially the classified parts – will take place behind closed doors at Bolidt's sister building on the same site, which also includes a logistics and product warehouse area and a pre-fabrication production facility.
Also near to the R&D Hub is an advanced climate chamber and accelerated weathering laboratory to test materials in harsh and extreme environments. As Jacco van Overbeek, director of Bolidt's maritime division, explained, these rooms will be "crucial in the coming months when Bolidt will start running tests on materials for its upcoming projects on Polar and expedition cruise vessels."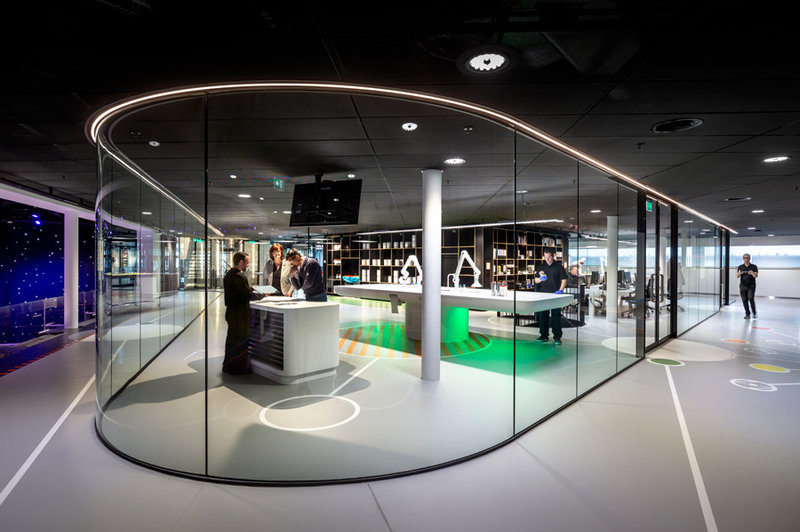 A meeting place for staff and customers
Creating a familiar atmosphere for both employees and customers is the common denominator of the center's Innovation Hub's communal areas, which include a library, restaurants, sports facilities, a board room and the building's most iconic feature - the balcony.
A wide, open-air space overlooking the river, the rooftop terrace works as a visual portfolio of Bolidt's innovation, consisting of samples of its outdoor decking solutions.
Meanwhile, a few floors below is the Innovation Hub, another core element and reason for pride for Bolidt staff.
We have to try and stay ahead of competition by coming up with new products
"When planning the center, we were asked to give ideas of what we thought was necessary to have in the building," said Bolidt sales and business development manager maritime division Robert van Aarle during the tour. "And what we needed was an area where you could sit down together and talk about new innovations, because that's something that was previously missing."
With projects in the maritime sector accounting for approximately 70% of Bolidt's annual turnover, cooperation and co-creation with ship owners and manufacturers is crucial to the company.
As van Overbeek put it: "We have to try and stay ahead of competition by coming up with new products. And that's why you see this laboratory here. That's where all the new and innovative ideas come from."