Autonomous security vessels:
benefits, challenges and future uses
An increasing number of companies are launching autonomous vessels to provide maritime services such as security in ports. Ilaria Grasso Macola speaks to two manufacturers to find out more about the benefits and challenges that come with unmanned surface vehicles.
World Security,
a subsidiary company of United Arab Emirates (UAE) logistics giant DP World, recently launched its first autonomous security vessels in the Middle East.
Introduced to enhance security in ports around the country, the boats can operate autonomously and run day and night operations, relying on 360-degree cameras and real-time communication devices.
"It's imperative that we develop the next generation of innovative technology at this time of increased need to safeguard national industrial and infrastructure assets in response to the crisis set off by the pandemic," commented DP World's UAE Region CEO Mohammed Al Muallem when the boats launched.
World Security is not the only company to produce this kind of unmanned surface vehicle (USV). According to data from research company MarketsandMarkets, the USV market is expected to grow from $534m in 2018 to more than $1bn by 2023, at an annual growth rate of 13.8%.
According to a definition given by online platform UST, USVs are "water-borne vessels that are capable of operating on the surface of the water without any onboard human operators".
Originally developed through the retrofitting of vessels with radio controls, nowadays there are a huge variety of USV models, changing according to the different uses.
In the defence sector, USVs are used for purposes including patrolling and minesweeping, while they are also adopted for more commercial applications, including exploration and in the oil and gas industry.
Ports have seen an increase in the adoption of autonomous vessels
Ports have also seen an increase in the adoption of autonomous vessels. Last year, the Fraunhofer Centre for Maritime Logistics and Services and the Hamburg Port Authority conducted a study on the impact of autonomous vehicle technology on ports.
What emerged is that, despite uncertainties created by rapid technological developments, investments in USVs for port security purposes are still in hot demand.
USVs are also divided into those remotely controlled by humans and autonomous surface vehicles (ASVs). Despite their differences, though, both are equipped with up-to-date technology – including sonar, radars and cameras – to communicate with the control station.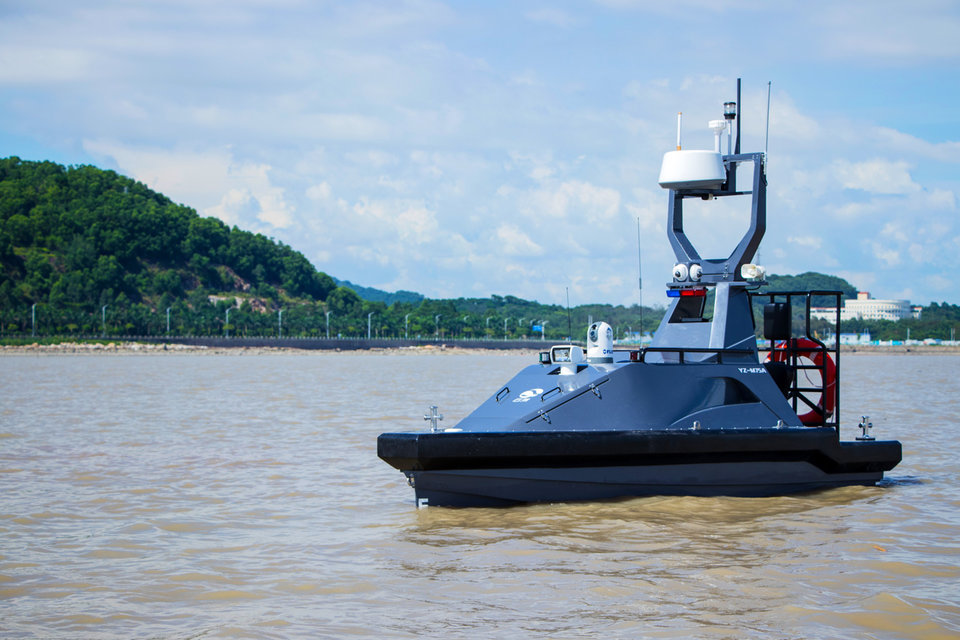 The advantages of unmanned boats
Founded in 2010, Hong Kong-based Oceanalpha is one of the oldest companies in the autonomous vessel field, and has been developing its M75 autonomous surveillance and rescue vessel since 2016.
Used mainly for maritime and port security purposes, the M75 is fitted with photoelectric pods for day and night searches, as well as search and rescue modules.
The model is 5m long and reaches a speed of 30 knots, whilst maintaining a communication range up to 30km.
"It's a fast-response unmanned vessel with a very compact size, compared to a conventional security vessel," says Oceanalpha general manager Ran Zhang.
According to Zhang, one of the main advantages of using an autonomous vessel like the M75 is the lack of human labour. In fact, it is cheaper for customers to use USVs than it is to employ a crew, especially when considering security tasks.
"No one can work 24 hours a day, you need to have shifts," he adds. "Autonomous boats can just go out to sea continuously, without resting. Autonomous boats can also go to dangerous and complicated environments, without having to worry about crew safety."
Autonomous boats can go to dangerous and complicated environments, without having to worry about crew safety
Shorter prepping times are another benefit. "For autonomous vessels, you need to push a button on the control centre and the boat can go by itself, which allows you to take a couple of minutes to get ready to go out, compared to the 15 minutes of manned vessels," explains Zhang.
The only disadvantage of unmanned vessels, says Zhang, appears in the event of an accident, as there are no human beings to fix potential problems. The numerous advantages, as well as an increasing need for 24/7 security, are the main reasons behind the sector's growth.
"From the customer side, everyone wants security 24/7 but it takes a lot of extra manpower if done in the traditional way," he says. "By using autonomous vessels, companies can solve the problem while saving money."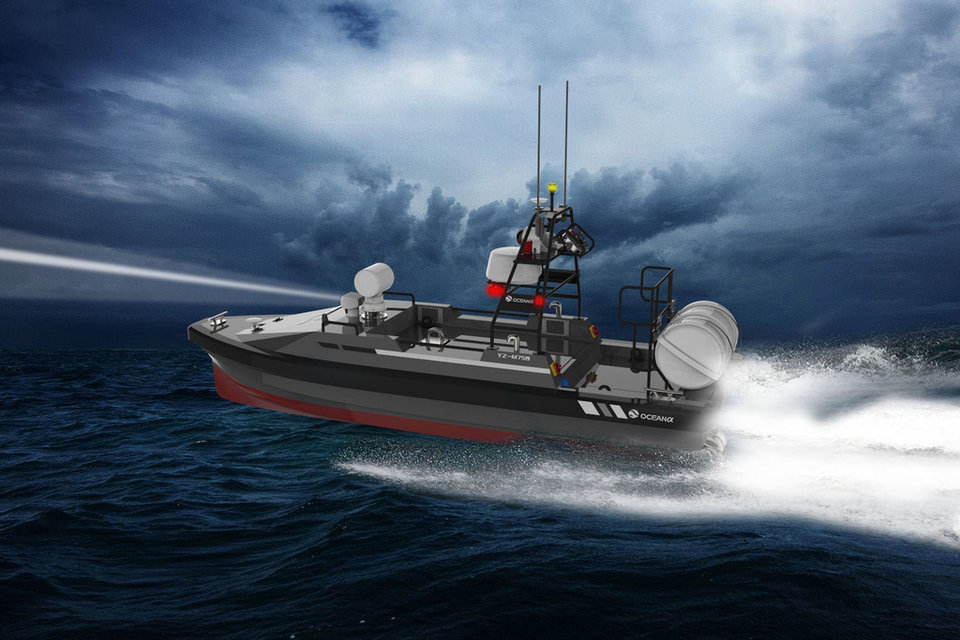 A growing demand for USVs
Around the same time as Oceanalpha, Madrid-based company UTEK started to produce its unmanned vehicles, developing the technology necessary to control commercial boats remotely. UTEK's approach to USVs was shaped by the founders' background in the aerospace sector.
"When we started the company, we submitted a proposal to the European Space Agency Incubation Centre, where we had to follow a two-year research programme," comments UTEK CEO César Martínez. "We applied our background in aerospace to better control it."
Martínez says the majority of customers come from the defence sector, especially from port authorities. The reason for this lies in the fact that despite intense security measures, ports are areas more sensitive to breaches.
"While you can have a fence on the ground or security people, the big problem for port authorities is the water component. Even if you have fixed cameras all along, there are some critical areas that need to be more protected."
"In that circumstance, you combine the fixed scanners with USVs with cameras to perform patrol operations, controlling [ultimately] the whole port."
While you can have a fence on the ground or security people, the big problem for port authorities is the water component
Geographically speaking, despite customers coming from Europe or North America, there is a growth in the number of Middle Eastern companies acquiring USVs. This is because several countries around the world are developing legal frameworks to operate these vehicles, with some being more flexible than others.
"Countries in the Middle East are more open to this kind of vehicle, as their legal frameworks are more flexible," says Martínez.
As for the future of this technology, both experts firmly believe that within the next ten years, we will see USVs become more and more the norm.
"More people realise that in the future, the whole maritime industry will become autonomous and the future of autonomous technology will be very bright, opening a big market for everyone," comments Zhang.
"USVs in the next few years will perform support operations for the manned boats but after that, I believe they will perform specific operations, including as a group," concludes Martínez.