The maintenance-free, light system solutions of GF Piping Systems help you to increase the safety and comfort of your passengers and the efficiency of the ship. We have been the partner of the global cruising and ferry industry for more than 20 years with solutions for all water and cooling applications on board. At the same time, they help to reduce downtimes, repair and operating costs and to increase reliability.
Non-corrosive system solutions
Our plastic systems cover all water and cooling applications onboard and remain corrosion-free for the entire service life of the ship (at least 25 years). No more leakages and consequential failures due to corrosion.
Better efficiency of the ship
Plastic systems are up to 60 percent lighter than metal. This weight reduction makes it possible to reduce fuel consumption and increase lo ad capacity. The pre-insulated piping systems reduce undesirable cooling and heating losses.
Our drinking water solutions reduce the risk of bacterial pathogens. The cooling solutions increase comfort in the passenger cabins and protect food in kitchens and restaurants. Thus, they also preserve the reputation of the company.
Our systems remain free of rust, incrustations and deposits throughout the entire service life of the ship. They resist chemical stresses, such as chlorine dioxide disinfection of the drinking water system, easily and permanently.
Prompt delivery worldwide
GF Piping Systems is represented in 34 countries and manufactures at 32 locations in America, Europe, and Asia, thus in all target regions. Customers receive required products and spare parts directly to the ship, port or shipyard in a very short time.
Certificates and approvals
ABS, Bureau Veritas, DNV-GL, Lloyd's Register, RINA
Chinese Classifi cation Society, Russian Shipping Register
USGC (USA), Transport of Canada
COOL-FIT 4.0 for maximum performance and safety in industrial refrigeration
When GF Piping Systems introduced the revolutionary COOL-FIT system, it completely changed the way refrigeration applications are planned, installed and operated. COOL-FIT 4.0 continues the revolution spectacularly: A technological leap for users with the highest demands for production and process safety and maintenance of high quality food storage facilities.
COOL-FIT 4.0 helps you work with maximum efficiency while simultaneously reducing your maintenance and operating costs. COOL-FIT 4.0 is a complete system made of factory pre-insulated pipelines, fittings, valves and hoses for secondary cooling with brine, glycol and ethanol as well as cooled water in the range of – 50 °C to 60 °C. "COOL-FIT 4.0 brings the unique advantages of our pre-insulated systems to users with the most demanding cooling and freezing applications," says Mark Bulmer, Global Segment Manager Cooling at GF Piping Systems. "These include companies in food and beverage production, such as fruit and vegetable processors, slaughterhouses, breweries and supermarkets."
COOL-FIT 4.0 shares the advantages of all COOL-FIT products compared to metal systems:
100% maintenance-free, as plastics are permanently corrosion-free:

The media pipe, insulation and shell of COOL-FIT are made of high-quality plastics and so are corrosion- and maintenance-free throughout the system's entire operating life. This reduces expensive interruptions of operation and lowers maintenance costs and personnel requirements.

100% reliable over the system's entire operating life:

The especially smooth interior surface of the medium pipe, typical for plastic systems, reliably prevents deposits. That means: No loss of pressure over the entire useful life, COOL-FIT remains as efficient as on the first day.

Planning and installation are simplified due to 65% less weight:

COOL-FIT is much lighter than traditional metal systems and so places much lower structural demands on buildings and supporting structures. Heavy transportation aids are no longer needed at the construction site, or they can be reduced.

50% faster installation:

Factory pre-insulation of COOL-FIT replaces traditional insulation after installation, which often requires a second team at the construction site. You receive finished and permanently insulated components, which can be used without delay.

Lower operating costs because 30% more energy-efficient:

The low heat conductance of plastic and the highly efficient and robust foam insulation together increase your system's energy efficiency. That helps save energy costs and makes your work more environmentally friendly.
At the same time, COOL-FIT 4.0 offers additional decisive advantages:
Connected in a few minutes:

The design has been further improved and simplified - no unnecessary or complicated installation steps. The system can be installed neatly and easily and connected within a few minutes through electric arc-welding. The system can start up without delay.

Installation also outdoors:

The new design also allows the use of COOL-FIT 4.0 outdoors. All surfaces are sealed, and so protected from rain and all other influences, also UV-resistant. The sealing lip of the fittings surrounds the pipe and reliably protects the insulation from water and ice.

Always control of the quality:

Thanks to its reduction of installation steps and use of electric arc-welding as the connection means, COOL-FIT 4.0 permits a degree of control that was previously not possible. Installation errors are largely excluded in advance, which ensures a system of the highest possible quality.
SeaDrain White: a revolutionary marine drainage system from GF Piping Systems
The SeaDrain White marine piping system is the industry's first thermoplastic black and grey water drainage system with both welded and mechanical joining capabilities. It also introduces the first non-corroding thermoplastic deck drain. Its ability to maintain a continuous pressure rating of 2.4bar (35psi) independent of support hangers makes it a revolution in marine drainage.
SeaDrain White utilizes both GF Piping Systems' patented 'Fast-Lock' mechanical fastening and electrofusion (USPH-compliant) jointing methods. The patented 'Fast-Lock®' mechanical joint introduces the first integrated push-fit and locking mechanism for black and grey water systems.
Mike Beutler, Senior Product Manager Marine Products, explains: 'Fast-Lock' mechanical jointing, requiring only an 8mm or 5/16" screwdriver and is especially useful in tight spaces involving many joints with no room for a welding machine or when power is unavailable. With most fittings connecting via socket to spigot ends, means you also save space when installing fittings end-to-end. Electrofusion is the option for permanent connections, and it is possible to combine both fastening methods in one installation and even within a single fitting.'
'The fastening system provides the pressure resistance,' Beutler says. 'Therefore, we are only concerned about hanging it and it is estimated that only 25% of the typical clamps are required. You can also put it on the ground and pressurize it: it won't leak. This reduction in clamps means that you save weight and costs.'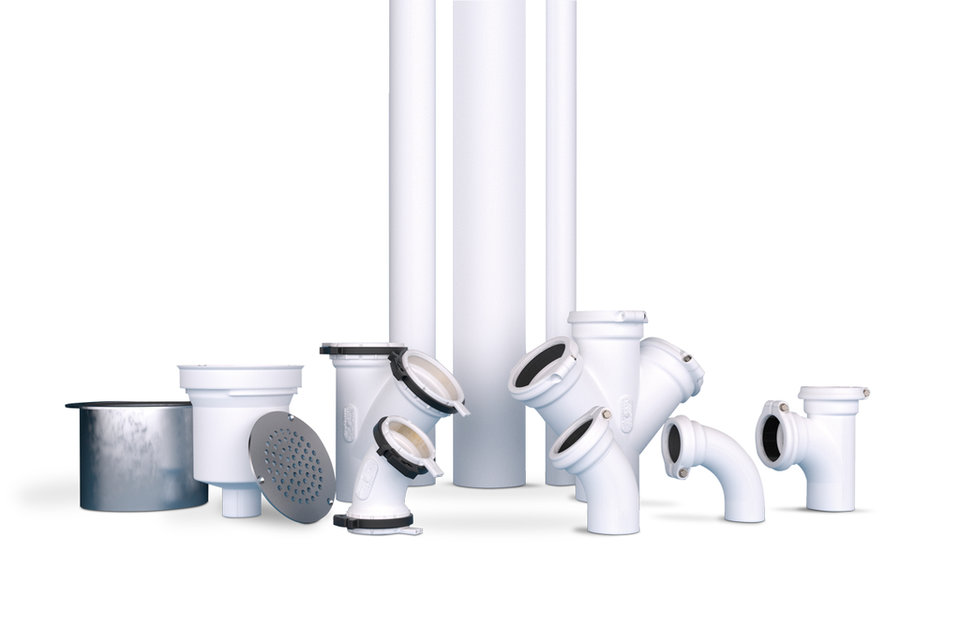 A durable and aesthetically pleasing plastic
SeaDrain White is produced from a high-performance polymer that is light, flexible and tough. Its pressure rating is 35 psi (safety tested to 140 psi) against potential head pressure.
It is also exceptionally corrosion resistant. Mike Beutler says: 'A common issue in drainage systems is that metal corrodes and eventually causes leaks. But this is a full plastic system that remains maintenance-free. The main benefit is reliable drainage system integrity.'
Externally coloured in bright white, SeaDrain White is perfect for use on deck and is resistant to UV discoloration for a minimum of ten years. 'The white colour was frequently requested by our customers for aesthetic reasons,' comments Beutler. 'Having to paint pipes white means more working hours and costs, plus paint typically does not adhere to polyolefin piping systems. Laboratory weathering tests have shown that SeaDrain White will hold its colour within 1% over 15 years and is intended to remain just as visually appealing over the ship's entire life span.'
'This product is the result of extensive customer research within the marine industry, including builders, owners and technical experts' Beutler adds. It is suited for use in black and grey water systems; cabins, galleys and laundries; deck and balcony drains; and in exposed customer-facing areas.