The Briefing on the maritime industry
The news, views and numbers you need to know this month
The amount the shipping industry will need to invest in infrastructure to cut greenhouse gas emissions by 2050 in line with IMO targets, according to a study published in January by the University Maritime Advisory Services (UMAS) and the Energy Transitions Commission (ETC)
The amount of crude oil imported by China in 2019 in millions of tonnes - but to what extent will coronavirus affect this figure?
The number of seafarers serving on internationally trading merchant ships worldwide, according to the International Chamber of Shipping
The amount to be paid by vessel operating company Bernhard Schulte Shipmanagement after pleading guilty to maintaining false records of bilge waste discharge from the Topaz Express tanker
VesselsValue used satellite tracking technology to compare China's real-time demand for crude from the Middle East in recent weeks (up to 14 February). According to VesselsValue, the data below shows the demand for crude tankers, measured in billion tonne miles where a tonne mile is a tonne of cargo that's travelled one nautical mile by sea.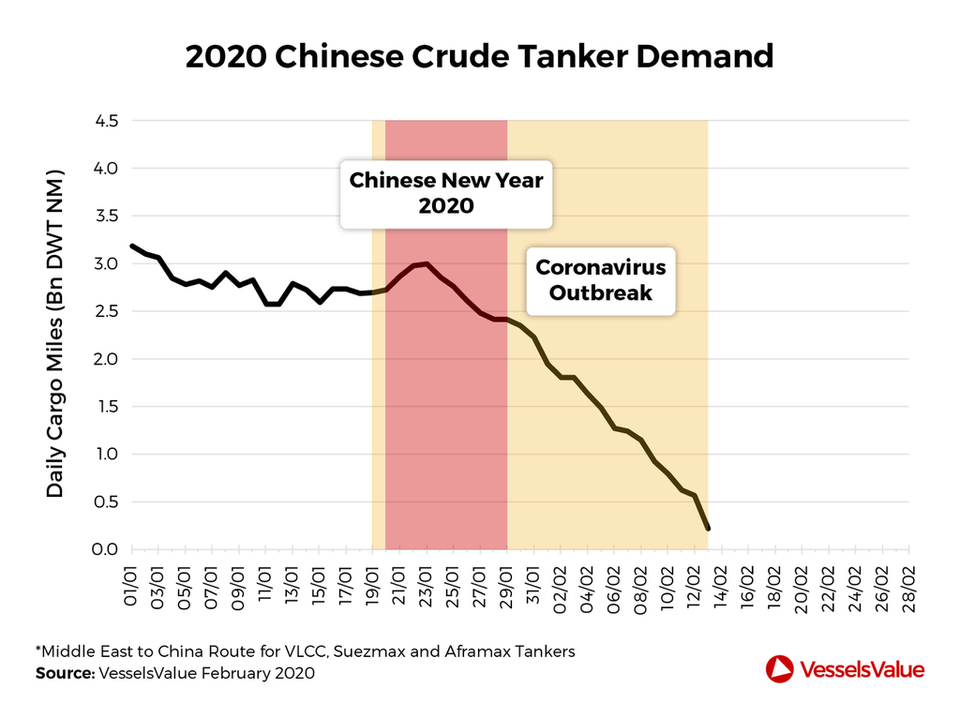 In a press release, VesselsValue highlighted that demand for Chinese crude tankers fell from an average of 3.42 billion tonne miles per day recorded in 2019 to almost zero in mid-February. It also highlighted that Chinese ports generally see a downturn around Chinese New Year, but that this time the drop has been much more pronounced. In addition, based on VesselsValue's Charter Rate assessment, the daily cost of hiring a very large crude carrier (VLCC) for a year fell by more than 20% (or US$4m) in the period between 14 January 2020 and 14 February 2020, while spot earnings fell by more than 70%.
From Twitter
Our Live Map might look busy around #China, but our data shows there's a drop in shipping activity in the region, as the impact of the #coronavirus starts to show. According to #AIS data, 4896 ships reached Chinese ports last week, compared to 5955 in the same period in 2019. pic.twitter.com/Kle71qMhVl

— MarineTraffic (@MarineTraffic) February 11, 2020
World Health Organization (WHO) Health Emergencies Program executive director Mike Ryan, after WHO said that cruise ship travel should not be banned in mid-February:
People say we should steer clear of cruise ships or steer clear of airports or steer clear of certain ethnic groups. We have to be really careful about such suggestions. We need an approach to managing risk that allows us to continue to operate as a society.
IMO Secretary-General Kitack Lim, following an assessment in January of the maritime industry's progress on limiting fuel sulphur content:
I urge all shipowners, operators and masters to comply with the carriage ban, where applicable, when it comes into effect. IMO will remain vigilant and ready to respond and provide any support. I would like to thank, sincerely, IMO Member Governments, the shipping industry and all stakeholders, including shippers and the fuel oil supply industry, for their efforts so far and to ask for further cooperation to ensure IMO 2020 is implemented properly.