Testing the waters: Direct shipping opens between Iran and Syria
A new shipping line between Iran and Syria is already causing tensions in the Middle East, yet could be a lifeline for both sanction-hit countries. Heidi Vella profiles the new agreement and potential risks for stoking geopolitical tensions.
In a new plan to boost the economies of heavily-sanctioned Iran and war-torn Syria, a new shipping line has been established between the two countries, in a move which could have massive ramifications for relations in the Middle East.
The head of the Iran-Syria Joint Chamber of Commerce, Keyvan Kashefi, announced the necessary coordination has been made to establish a new monthly cargo ship that will travel from Iran to Syria. The service started on 10 March and could be held twice a month if demand for shipping increases.
The cargo ship, thought to be an Iranian vessel, travels between the southern port of Bandar Abbas and Syria's Latakia port, and would take the place of the much shorter land crossing through Iraq, which Kashefi has said is now impossible due to "several issues".

Geopolitical tensions have risen in the region. In the first week of March, a strike on an airbase in Iraq, which hosts American, coalition and Iraqi forces, was thought to have been carried out by Iran-backed militia, though this has been denied by Tehran.
International sanctions
Although Iran and Syria already share some trade, the announcement signals a strengthening of ties between the two countries, both of which are currently subject to heavy international sanctions.
"Politics aside, it is an interesting proposition, because Iran and Syria are two of the most heavily sanctioned jurisdictions in the world, therefore it made sense that in a time when Iran especially is struggling to export because of international sanctions, it would look for a strategic ally capable of accepting Iranian exports," says Russell Strong, solicitor at specialist international arbitration and litigation firm Zaiwalla & Co.
The US and EU member states have unilaterally imposed punishing sanctions on the Syrian government since the start of the 2011 uprising. And Iran's nuclear programme has seen US sanctions that effectively prohibit any company with a US presence working with Iran, and transactions involving US dollars.
Both countries have struggled under the international restrictions that have resulted in a lack of access to food and medicine, and Iran has been unable to easily export its oil. Last June the US Treasury Department designated 121 tankers, container ships and other vessels owned or tied to Iranian shipper IRISL for additional secondary sanctions.
They're taking advantage of the economic drivers.
Though it is not clear what exactly will be exported on a regular basis, Cris Partridge, master mariner, MSc FICS, and managing director at Myrcator Marine & Cargo Solutions FZE, says if cargo is being carried, it will likely be food, other domestic products and crude oil that Iran needs a market for.
"In the current global economic downturn, chartering vessels that are willing to trade between both countries is likely to be easier than before, and that might be another reason why Iran is deciding to do this now. They're taking advantage of the economic drivers," he says.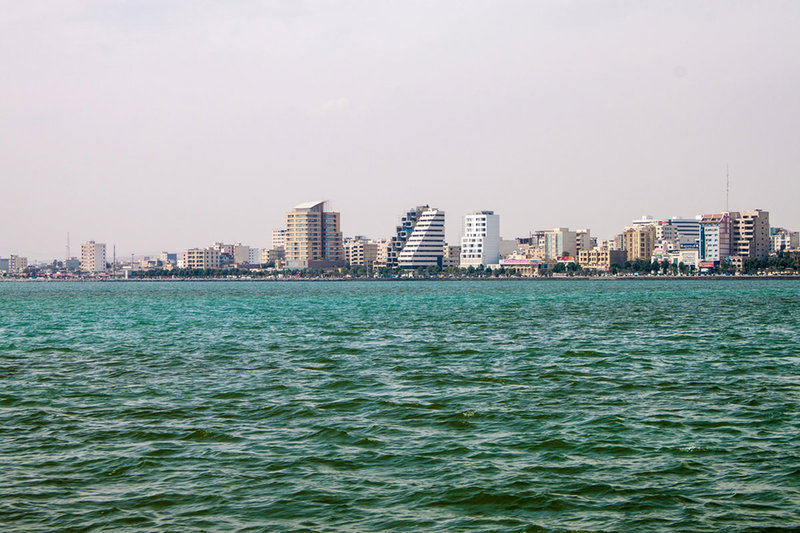 Passing through international waters
To travel between Iran's Bandar Abbas and Syria's Latakia port, the cargo ship will have to pass through waters belonging to other countries, including through the Red Sea and the Suez Canal, areas where the US and other countries maintain naval capability to police the sanctions, says Paul Dickie, partner and national head of shipping at Gateley Legal.
"There is the prospect for these ships to be stopped by international naval teams and turned back if it was felt that what was being done was in breach of sanctions regulations," says Dickie.
Any trade of arms and military parts would be potentially prohibited under international sanctions.
If a country feels that it is a target, they might well be entitled to protect themselves in self-defence.
Sarosh Zaiwalla, international arbitration expert and co-founder and senior partner of Zaiwalla & Co. Solicitors, points out that while there could be objections if the shipment contains arms or ammunition, it is not necessarily strictly illegal under the sanctions.
"If a country feels that it is a target, they might well be entitled to protect themselves in self-defence," he explains.
However, Dickie says he thinks it will be very difficult for Iran to trade arms, because any suspicion would lead to an intervention and a 'major escalation' in tensions.
"The risk they face is the danger of navies intercepting these shipments and checking them to make sure they're not carrying anything they shouldn't be," he says.
"However, neither the US, nor anybody else, will want the bad publicity of interfering with cargoes of food or medicine, if that's what's being shipped, but I imagine it will be policed and watched very carefully," he says.
Furthermore, it is unclear how insurance has been obtained to pass through the Suez Canal, which is normally underwritten from brokers in London or New York. Zaiwalla adds that it is not impossible to get international insurance under the sanctions but it would likely be very expensive due to a special premium applied for going into a war zone.
Stoking geopolitical tensions
Tensions between countries in the region are already rising. US officials have stated that they believe Israel has already targeted at least a dozen vessels headed for Syria carrying Iranian oil, as Israelis fear petroleum profits are funding extremism in the Middle East.
IRISL, the Iranian state shipping line, has announced an Iranian container ship, called Shahr e Kord, was damaged in an attack while sailing in the Mediterranean. IRISL said it would take legal action to identify the perpetrators of what it called terrorism and naval piracy.
The Iranian-flagged vessel last reported its position off Syria's coast on 10 March as it headed for the Syrian port of Latakia, Refinitiv ship tracking data showed.
Israeli Prime Minister Benjamin Netanyahu has in the past accused Iran of increased oil smuggling by sea to circumvent US sanctions. He vowed to take a more important role in blocking Iranian actions.
There is much international interest in the new shipping line between the two countries, not least the question whether legitimate trade between the two is economically feasible given the current climate and the impact of the sanctions. It also raises the risk of a further escalation of hostilities between Israel, Iran and others.
Zaiwalla says he hopes that instead the 'humanitarian angle' will come first instead of further sanctions and aggravation, and the new US administration raises the potential of an easing of restrictions on Iran, though there are no signs that is set to happen yet.
Main image: Transport ship on The Strait of Hormuz, Bandar Abbas, Iran. Credit: umut rosa / Shutterstock.com