Size matters: inside the Tuas Mega Port project in Singapore
The biggest port infrastructure in the world is scheduled to open its first two berths in 2021. Julian Turner gets the inside track from Er Tham Wai Wah, chief engineer and senior director at Singapore's Tuas Mega Port.
Singapore is the epitome of a modern city, constantly evolving. Defined for two centuries by its status as one of the busiest and most strategically important maritime hubs, the city-state, which sits on the trade route between Asia and Europe, is busy reinventing itself as a global centre for excellence in electronics, manufacturing, energy, chemicals and financial services.
Ranking second in the World Banks's 2020 Doing Business Report, Singapore's success as a business destination is driven by multiple factors, among them a highly qualified workforce, a high number of expatriates, a solid financial infrastructure and good transport links.
Singapore is keen to embrace the future while recognising its past and the opportunities that sea trade continues to offer. In 2019, the Port of Singapore attracted 130,000 vessel calls on average a year, while the maritime industry accounted for 7% of Singapore's GDP and 170,000 jobs.
Biggest port in the world
The ambitious new Tuas Mega Port is the next significant landmark in the Port of Singapore's evolution. The world's largest container terminal is being built in four phases, with the 20 million 20ft equivalent units (TEU) first phase set to open this year at a cost of S$2.42bn ($1.76bn).
"The Singapore Government is investing ahead to cater for future growth in container-handling demand to meet the needs of shipping mega-alliances as the industry consolidates," says Er Tham Wai Wah, chief engineer and senior director for engineering and project management, Maritime and Port Authority of Singapore (MPA).
"First announced in 2012, our plan is to move and consolidate container port operations in Tuas, at the western end of Singapore. The vision is to build a smart, next-generation port that increases productivity, optimises land-use, improves safety and security, and enhances sustainability."
An artist's impression of the project. Upon completion, Tuas Terminal will be the largest container terminal in the world, with a total capacity of up to 65 million TEUs. Credit: MPA
Sustainable innovation
Upon completion of the fourth and final project phase, scheduled after 2040, Tuas Terminal will be the largest container terminal in the world, with a total capacity of up to 65 million TEUs, compared with the combined 50 million TEUs capacity of their five current port terminals.
"The consolidation of container port activities at Tuas will help achieve greater economies of scale and reduce inter-terminal haulage of containers," says Wai Wah. "This will in turn enable container lines and cargo owners to save time and reduce operating costs."
Tuas Port will be equipped with sustainable technologies.
Consolidating the five terminals, at Tanjong Pagar, Pasir Panjang, Keppel and Brani, into one mega-terminal at Tuas will also optimise the deployment of resources for port and marine services by automating wharf-side and yard operations.
Technology innovations include unmanned vehicles, drones, data analytics and driverless trucks for port transport, combined with digital platforms designed to reduce port congestion and bureaucracy.
"Tuas Port will be equipped with sustainable technologies," explains Wai Wah. "It will have electrified automated yard cranes and automated guided vehicles.
"MPA will also harness digital technologies such as a state-of-art vessel traffic management system and digitalPORT@SGTM, a one-stop portal for port clearances and other regulatory transactions as well as just-in-time services to enhance efficiency of port operations and improve the turnaround time of ships."
Concrete proof: the use of giant caisson structures
One of the most difficult engineering challenges in the huge project was building the foundations for phase one of the terminal. The team found the answer with prefabricated caissons, watertight concrete structures sunk into water to form part of the permanent wharf line, allowing work to be carried out safely and easily.
Using caissons rather than conventional pilings proved faster and the deep foundations improved the quality of the wharf structure.
"The biggest challenge would be the construction of the huge caisson structures, which is one of the largest in the world, and doing so safely while meeting tight project schedules," Wai Wah explains.
"Each caisson is about 28m high – as tall as a ten-storey building – and weighs about 15,000t, that's the equivalent of 8,000 cars. In all, 8.6km of caissons have been constructed under phase one of Tuas Port and 9.1km of caissons will be constructed for phase two.
"The caisson construction project team for Tuas Port phase two had recently clinched the Singapore Workplace Safety and Health Awards 2020 for the use of unmanned sprayer to coat the caisson walls with a layer of silane. Using the unmanned sprayer reduces risks to workers and improves workplace safety."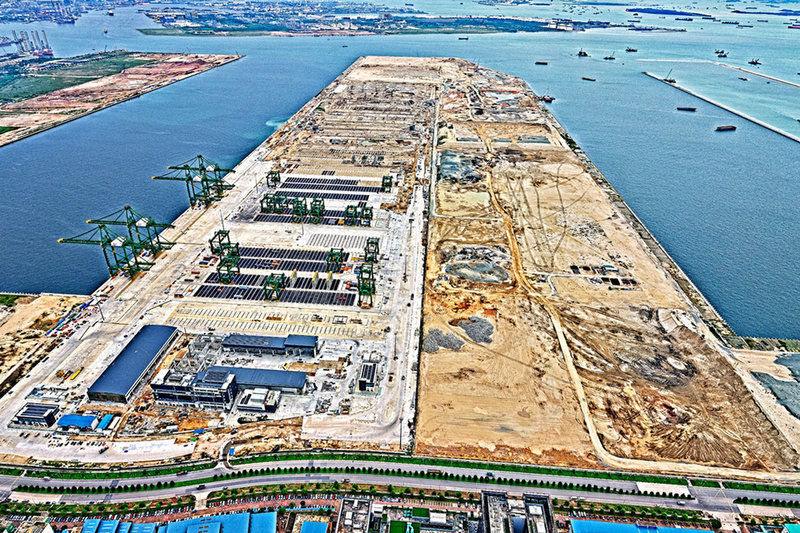 Giant concrete caissons are the foundation of phase one of the Tuas Terminal. Credit: MPA
Environmental issues and the impact of Covid-19
The Tuas project won the award in the category 'Community Outreach & Port City Dialogue: Port Development and License to Operate' at the 2020 International Association of Ports and Harbors World Ports Sustainability Awards.
Industry experts recognised the efforts of MPA in aligning and integrating port and community objectives through community engagement programmes, and successfully managing the port expansion in an urban environment.
Reducing the impact of such a large-scale, invasive project on the marine environment was a concern. To preserve marine habitats, environmental impact assessments were conducted before and during the reclamation works. Wai Wah also cites MPA's collaborative relationship with local environmental groups in relocating affected corals colonies prior to starting reclamation works.
"In reclaiming the land needed for the port, MPA pioneered the large-scale use of recycled materials from construction projects as reclamation in-fill, including dredged and excavated materials," he says. "This is not only eco-friendly but also allowed us to achieve cost savings of more than S$2bn."
Upon completion of the four project phases, Tuas Terminal will be the largest container terminal in the world.
Inevitably, the discussion turns to Covid-19 and the impact of the global pandemic on the Tuas Mega Project. Globally, the construction sector has suffered as a result of lockdowns put in place to limit the spread of the virus, but, despite this, Wai Wah says the project remains on schedule.
"The construction of Tuas Port is on track," he says. "MPA has planned the development of Tuas Port in four distinct phases. The reclamation of phase one commenced in March 2015 and MPA is on track to complete phase two of land reclamation works by end of this year. Phase two reclamation works of Tuas Port are ongoing as scheduled.
"MPA has put in place mitigation measures to ensure that reclamation works are not unduly affected by Covid-19 including phases three and four. Upon completion of the four project phases in the 2040s, Tuas Terminal will be the largest container terminal in the world."
Main image: The 20 million-TEU first phase of the Tuas Mega Port is set for delivery this year. Credit: Maritime and Port Authority of Singapore (MPA)