Neptune Declaration: has anything changed for stranded seafarers?

More than a year into the Covid-19 pandemic, the situation hasn't improved much for seafarers. Will the Neptune Declaration, the industry's latest pledge to bring crews home, help or are there more effective ways to conduct crew changes? Ilaria Grasso Macola finds out.
Since the beginning of the pandemic, hundreds of thousands of seafarers have been stranded at sea for months on end because of travel restrictions.
This situation, which has received a lot of media attention, has been described by the UN Secretary-General Antonio Guterres as a "humanitarian and safety crisis".
In the last 12 months, the wider shipping industry has taken a range of steps to ensure crew changes. International organisations, such as the International Maritime Organisation (IMO) and the International Labour Organisation (ILO), have lobbied governments for safe crew changes.
For their part, some governments – including the UK – have accepted the industry's pledge and recognised seafarers as key workers.
Throughout the pandemic, ship owners have faced many challenges, while keeping the global supply chain afloat and campaigning for their employees.
"In the last six months, I have seen regulators from all over the world appreciate shipping, but nobody wants to be part of the solution," said Bjorn Hojgaard, CEO of ship management company Anglo-Eastern Univan, in September 2020.
On 1 December 2020, the international community responded by approving a United Nations (UN) resolution on international cooperation to address the conditions of seafarers.

The Neptune Declaration: a game changer?
Less than two months after the UN December resolution, stakeholders from around the industry drew up the Neptune Declaration.
Signed by more than 700 companies and organisations, the Neptune Declaration recognises the industry's responsibility in sharing the seafarers' crisis and sets out a flat plan to resolve it.
According to signatories, four main actions need to be implemented to resolve crew changing issues.

Firstly, world governments should recognise seafarers as key workers and work towards giving them priority access to Covid-19 vaccinations, irrespective of their country of origin.
"This should include developing protocols that ensure vaccinations are correctly certified and effectively administered to seafarers, as well as establishing a standardized format for health passes that contain tamper-proof information about vaccination and testing status to facilitate crew changes," read the statement.
Secondly, they agreed wider logistics chains should implement the 'Recommended Framework of Protocols for ensuring safe ship crew changes and travel during the Coronavirus pandemic'.
The aviation and maritime industries, as well as governments, should work together to establish a universally accepted and harmonized framework of standards.
The framework – which was initially issued in May 2020 and recognised by the IMO – set industry best practices, including compliance to Covid-19 testing and quarantine requirements, as well as operations to safeguard seafarers.
Thirdly, ship operators and charterers should increase their collaboration to facilitate crew changes. According to the document, owners and charterers should share information to make sure that crew changes are carried out smoothly, as well as avoid legal impediments to changes of crew.
"No charter contracts should contain clauses preventing necessary crew changes from being carried out, as the aggregate effect of such clauses could be a serious obstacle to the safe operation of maritime trade and the protection of the wellbeing and rights of seafarers," read the document.
Lastly, under the declaration, aviation and shipping should work together to ensure that seafarers can safely repatriate.
"The aviation and maritime industries, as well as governments, should work together to establish a universally accepted and harmonized framework of standards for the validation of trusted health data for seafarers to facilitate border crossing and ensure the long-term resilience of air connectivity."


Responses to the declaration
The document was well-received by the wider industry. IMO secretary-general Kitack Lim praised it by saying: "This very much reflects the calls made by IMO, its sister UN entities and more recently the United Nations General Assembly, in its recent resolution on seafarers. I encourage more companies, including charterers, to get involved and show their support for our seafarers."
For international seafarer union Nautilus, the declaration will start a conversation regarding crews and their rights after the Covid-19 pandemic.
"My hope is that there is a conversation, an involvement and a recognition, that will continue beyond the eventual resolution of the pandemic," the union commented. "Once we get beyond the immediate problems, we want to ensure that it doesn't happen again."


All too often these actions affect the ability of people to move across borders and within countries.
According to BIMCO deputy secretary general Lars Robert Pedersen, however, the Neptune Declaration is another attempt to garner support at a national level.
"Nation states around the world take sovereign decisions in their best interest – we suppose – to protect their populations from the Covid-19 disease," Pedersen tells Ship Technology Global. "All too often these actions affect the ability of people to move across borders and within countries – movements which are necessary for seafarers to get to and from ships."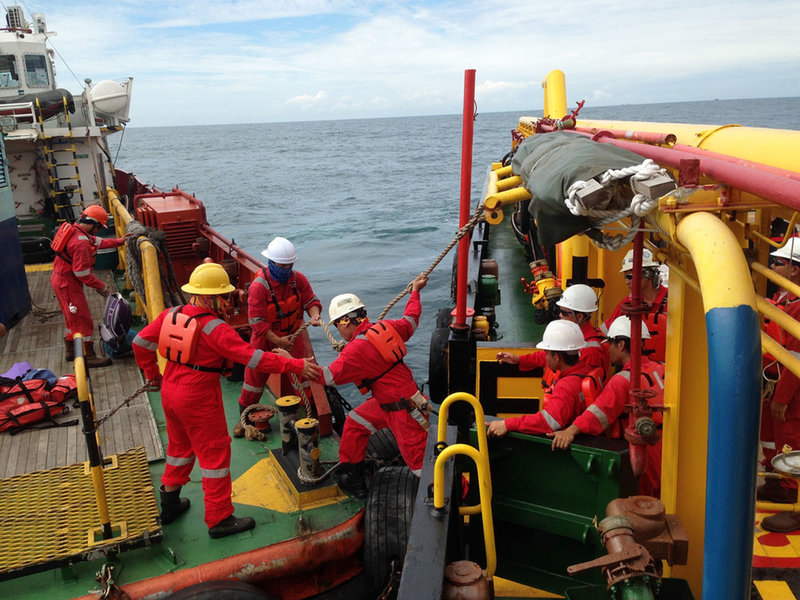 Offshore crew during transfer by boat using swing ropes at South China Sea. Credit: Deela Dee / Shutterstock.com
Has anything changed?
Despite the UN resolution and the Neptune Declaration not much has changed.
Speaking at Capital Link's 15th International Shipping Forum, IMO legal affairs and external relations director Frederick J. Kenney said that in December 2020 the number of stranded crew members was around 400,000.
"While we have made some progress, we still have a long way to go," he said.
Kenney explained that while the UN December resolution was adopted by all the 192 IMO member states, only a handful of countries have actively designated seafarers as key workers.
"As of today, we still only have 56 countries that have designated seafarers as key workers, and we must have more," Kenney added. "It is one of the cornerstones that can assist in facilitating crew changes. Also, with the advent of vaccines, it's important that seafarers are designated as key workers, so they can be moved up the priority list to get vaccinated through their domestic programmes."
"Logically, there are no good reasons why countries that rely heavily on the maritime sector will hamper crew changes," Sailors Society regional development manager Gavin Lim tells Ship Technology Global. "Same goes for companies in the sector, they all want crew change."


We have to do crew changes for humanitarian reasons.
However, Lim explains logistical problems, such as fewer planes and border controls, are making international crew changes far more difficult.
For others, the problem lies with charterers that impose no crew change clauses or don't allow for route deviation. "This is beyond our ability and we have to do crew changes for humanitarian reasons," explained Safe Bulkers CEO Polys Hajioannou during the Capital Link conference.
According to Hajioannou, big charterers believe that crew changes are the ship owners' problem even though it encompasses the whole industry. "These people don't give the right instructions down the line of authority on how to treat topics such as safety of life at sea," he added.

A way out: vaccines and safe corridors
Industry stakeholders believe that vaccination is the best way forward to protect seafarers and that they should be at the top of the global vaccination campaign, regardless of their country of origin.
"A vast proportion of our workforce comes from developing nations whose access to vaccines is going to be limited," International Chamber of Shipping secretary-general Guy Platten told the International Shipping Forum. "I think we have a very strong case to be able to procure vaccines on behalf of our seafarers and for the industry to make sure that resilience of the supply chain continues."
"We are actively looking at how we can provide vaccines to seafarers that may not have access to them in their home countries because their domestic programmes haven't started yet," added IMO's Kenney. "That may be a very difficult challenge, but I think it's one that we have to undertake if we're going to get the workforce vaccinated so that they can continue to flow freely."

Crew can try to go home with a three-hour flight instead of making a round-the-world trip or staying onboard for more than 12 months.
Establishing safe corridors in maritime nations might also help facilitate and ease frequent crew changes, added Hajioannu.
"The seaman can be tested on board before he disembarks and, by creating a safe corridor, can go straight next to the airport to a safe place to wait and embark the flight," he added. "And he can try to go home with a three-hour flight instead of making a round-the-world trip or staying onboard for more than 12 months."