Brexit and UK shipbuilding: a time for rebirth or regret?
Boris Johnson's government pledged to 'bring shipbuilding back to the UK' as it prepared to finalise its exit from the European Union. Now that the UK has left the union, what does the future look like for British shipbuilding? Luke Christou reports.
Last summer, infrastructure group InfraStrata completed a £7m deal to revive North Devon's Appledore Shipyard. The deal came 18 months after Babcock International ended its lease at the 150-year-old site, after failing to find enough work to sustain it.
The new Appledore yard is expected to employ 350 shipyard workers and provide work to more than 1,000 subcontractors. This will offer relief to a local community that has relied heavily on shipbuilding to provide skilled jobs and fought against the yard's closure.
The InfraStrata deal marked a big victory for Boris Johnson's government, which a year earlier had pledged to 'bring shipbuilding back to the UK' as it prepared to finalise its exit from the European Union. According to trade union GMB's Turning the Tide report, shipbuilding jobs in the UK have fallen drastically in recent decades, from 122,200 in 1881 down to approximately 31,000 in 2016.
Now, with Brexit offering a watershed moment, there is an opportunity for the UK government to "evaluate the industry and employment opportunities and how it supports the green agenda", says Tom Chant, CEO of industry association the Society of Maritime Industries.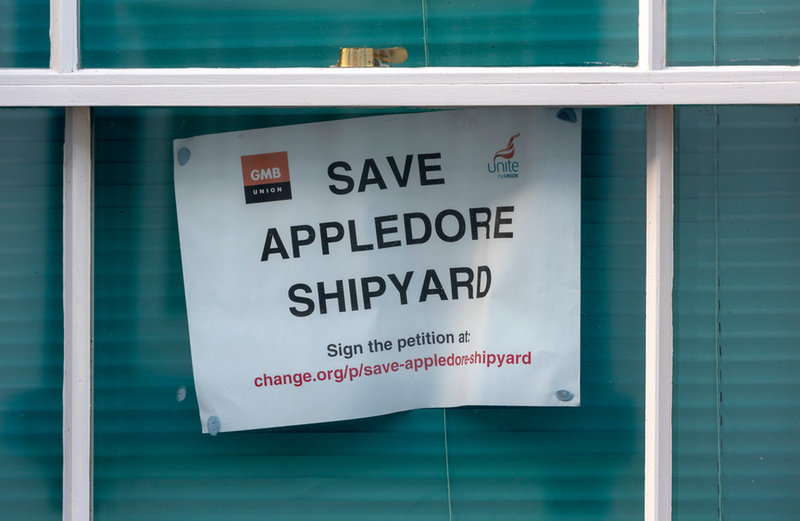 Local residents rallied against the closure of the Appledore Shipyard, which cost the local area 200 skilled jobs. Credit: Peter Titmuss / Shutterstock.com
Brexit: a positive or a negative for UK shipyards?
Having also purchased famed Northern Irish shipyard Harland and Wolff in 2019, InfraStrata is confident that Brexit will provide a welcome boost to the industry. From naval patrol ships to assist in the migrant crisis to fishing trawlers as the UK's fishing quotas increase, InfraStrata expects to see demand for new vessels rise as a result of Brexit.
However, as in most industries, Brexit also presents a lot of uncertainty. It's too soon to say whether Brexit will be a positive or a negative for the shipbuilding industry, but the government's increased focus on social value — how spending impacts local communities — in recent years is a positive sign.
UK yards are competing against state-owned enterprises in the EU.
As Chant points out, 'social value' is mentioned 76 times in the 2018 edition of HM Treasury's Green Book, which offers guidance on evaluating policies, projects and programmes, compared to zero times in the 2003 edition that it replaced.
"The full details of state aid are yet to be finalised so there isn't a clear answer on this [how Brexit will impact the industry] as of now," Chant says.

"What we do know is the HM Treasury has changed the Green Book to strengthen the recognition of social value and that government spending should support the government's priorities, including for jobs in the post-Covid-19 recovery. This is a big step forward as UK yards are competing against state-owned enterprises in the EU."
Increasing opportunities for UK shipbuilders
Ahead of January's Brexit deadline, the Ministry of Defence confirmed that it was exploring plans to change EU-derived rules that prohibit the UK from favouring domestic firms for shipbuilding contracts.
This would be another step forward following the release of the new National Shipbuilding Strategy in 2017. The new strategy focuses on revitalising the UK's shipbuilding industry through 'sustained and significant' investment in the Royal Navy, which is expected to provide additional work to the UK's shipyards, create funds for investing in research and development and increase shipyards' competitiveness in the global shipbuilding industry.
Babcock International's Team 31 has since won the shipbuilding competition, launched as part of the strategy, to design and build a new class of general purpose frigates, the Type 31.
The leading firm will now complete five new warships based on its Arrowhead 140 design, providing work to approximately 1,250 highly skilled workers and creating 150 new technical apprenticeship opportunities at Babcock's building and repair facilities in Rosyth, Scotland.
The Type 31 programme has stimulated an impressive investment in new technology.
"The Type 31 programme has been a real success and has stimulated an impressive investment in new technology and facilities in Rosyth," Chant says. "This, in turn, will boost jobs and skills."
Given the strategy's success, the Maritime Enterprise Working Group — made up of industry, academic and government officials — is now working to broaden the scope of the strategy to include all government purchased vessels, which will create opportunities for wider industry.
Babcock International's Arrowhead 140 concept was selected for the Type 31 frigate, with the first vessel set to enter water in 2023. Credit: Babcock International
Leading the shipbuilding supply chain
It is unlikely that the UK will wrestle control from China, South Korea and Japan, which combined account for 80% of global shipbuilding orders, in ship types such as supertankers and Very Large Crude Carriers (VLCCs). However, there will be opportunities for the UK in the commercial space, as the industry embraces smart technologies and sustainability.
"It is in our commercial shipbuilding that we now need to focus – we will never compete with China, South Korea and Japan in building supertankers and VLCCs, but we can build more specialist designs including research ships, support vessels and fast ferries, all of which will now need to adopt increasingly green and smart technology," Chant explains.
We can become a superpower in terms of new technology, designs and green and smart shipping.
Rather than attempting to compete with Asia's shipbuilding leaders, the UK should instead focus on delivering new technologies, systems, and components – a space where the UK already thrives – that will enable a greener and smarter industry, according to Chant.
"We can become a superpower in terms of new technology, designs and green and smart shipping," he says. "Highly engineered projects like research, ro-ro/ferry and windfarm vessels incorporating green and smart technology are the types of projects that UK yards can deliver."
A focus on innovation
Despite talk of 'saving' the UK's shipbuilding industry, many sectors are already in a strong position.
"We have a very strong leisure and workboat sector with supply chains across the board which serve the global industry across all ship types," Chant states. "Our naval shipbuilding is also in a good state, with success in exporting designs as well as two concurrent warship programmes underway."
However, continued investment in innovation will be vital to maintaining and increasing the UK's current standing in the global shipbuilding market.
We have a very strong leisure and workboat sector.
With naval research and development investment having increased by £4.7bn as part of the National Shipbuilding Strategy - including an extra £2bn per year by 2020 to 2021, the biggest increase in government R&D investment since records began - this does appear to be at the forefront of the UK's post-Brexit shipbuilding strategy.
"If we don't innovate we'll be supplying components to other nations," Chant explains. "We need to be better, faster, cheaper in order to hold our position in this globally competitive business."