- ECONOMIC IMPACT -
Latest update: 17 February
11.86 million new jobs were created in China in 2020, exceeding the target of 9 million new jobs during the year, according to the National Bureau of Statistics.
According to the OECD, unemployment rate in OECD nations stood at 6.9% in December 2020, unchanged from the previous month but down from the 7.5% recorded in August 2020.
IMF projects global economic growth at 5.5% for 2021, which is an upward revision from the 5.2% rise estimated in October 2020.
The global economy is estimated to contract by 4.2% in 2020 and bounce back by 5.3% in 2021.
Employment outlook in the wake of Covid-19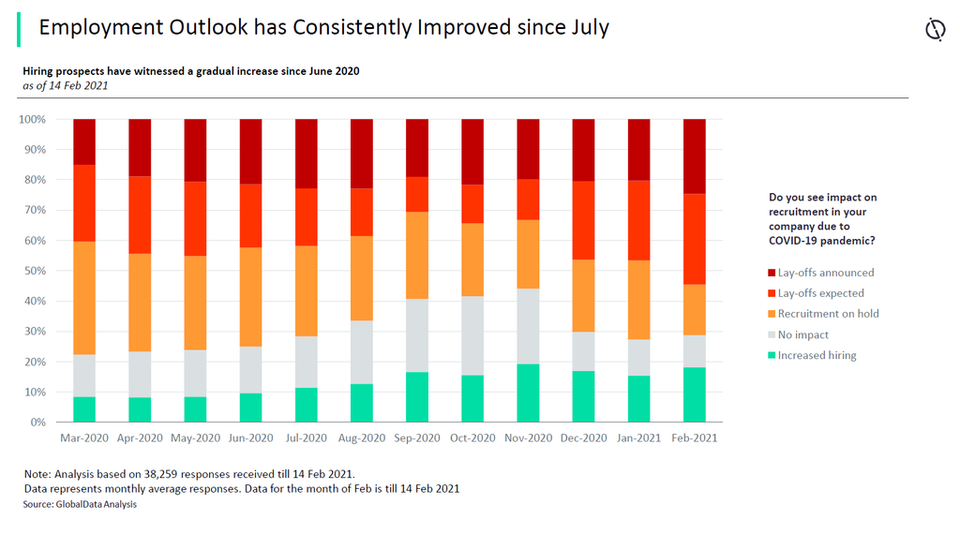 - SECTOR IMPACT: Travel and tourism -
Latest update: 3 February
International travel impact
GlobalData figures show that international arrivals globally fell by 49% in 2020, a catastrophic drop that has turned the tourism sector on its head.
GlobalData figures show that inbound expenditure globally fell by 54% in 2020. Domestic tourism expenditure fared better, with a decline of 40%. Domestic is also expected to perform better in 2021.
Impact FOCUS: Airline and cruise Sectors
The parent company of Emirates Airline recorded its first loss in more than 30 years, reporting a $3.8bn loss for the six months to the end of September 2020. Avianca filed for Chapter 11 bankruptcy protection and Virgin Australia was bought by Bain Capital after similar proceedings.
Lufthansa and Air France KLM had to seek government support. Numerous airlines have scaled back flight plans as demand remains severely reduced.
Carnival Corporation has extended the suspension of US departures until 30 April 2021 while Royal Caribbean has chosen the same date for its global sailings.
Norwegian Cruise Line has confirmed that it has also suspended all cruises embarking until April 2021. There is currently little sign of light in what has been a very long and very dark tunnel for the cruise industry.
Key travel And tourism developments