Green team: the ports leading shipping's sustainability drive
Ports have a vital role to play in the shipping industry's broader drive towards decarbonisation and environmental stewardship. Chris Lo profiles five ports going further than most in building sustainability into their operations.
As the shipping industry continues to work with the International Maritime Organization (IMO) and other global stakeholders to manage the emissions of tankers and colossal container ships, port operators are also looking to the future.

Shore-based maritime hubs need to work in tandem with shipowners and operators to ensure ports and container terminals are supporting industry-wide efforts to decarbonise, reduce waste and mitigate local impacts on marine ecosystems.
Ports can turn to any number of projects to achieve their sustainability goals, from embedding clean energy and electrification to noise management and the bunkering of cleaner fuels. Below are five ports taking a lead on proactive environmental stewardship and pointing the way towards the cleaner, greener shipping terminals of the future.
Tuas Port project, Singapore: building sustainability into port development
With the industry's growing emphasis on sustainability, new port facilities need to balance environmental responsibility with economic development. Greenfield port developments are an opportunity to build climate-conscious ideas into a project from the very beginning, and they don't come much bigger than the Maritime and Port Authority (MPA) of Singapore's next-generation Tuas port project.
The ongoing multi-phase project will see the mega-port come fully online in 2040 as the world's largest fully automated terminal, with fully electric guided vehicles and annual container processing capacity of 65m twenty-foot equivalent units (TEU).
"Tuas Port is also an opportunity to peer over the horizon and rethink the future of shipping," said Singapore's Prime Minister Lee Hsien Loong in 2019. "Because the port will be on a completely greenfield site, we can design from a clean slate and make innovation and sustainability key features."
Once complete, Tuas will allow MPA to consolidate all existing container-handling facilities in one location, cutting inter-terminal haulage operations and their associated emissions.

But the project has also been careful to limit the impact of the port's construction, using reused and recycled materials for more than 50% of its land reclamation work and relocating sensitive coral colonies that were in the project's path.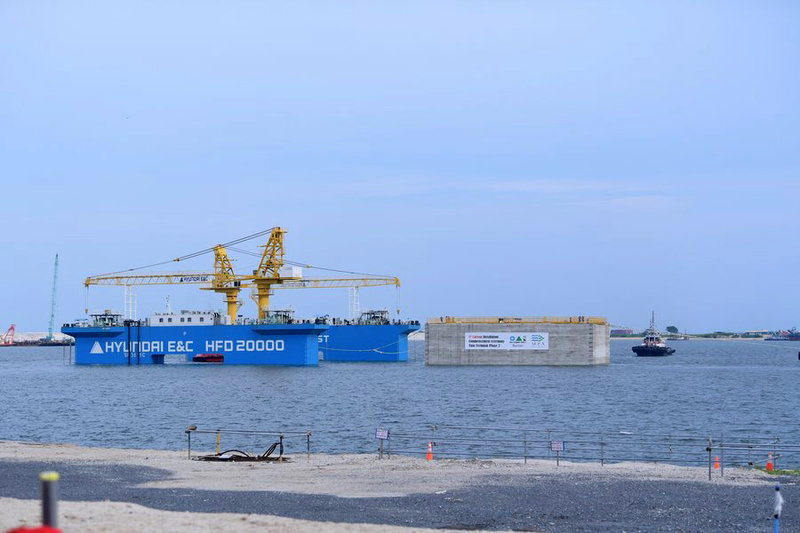 Tuas Port is expected to open in 2040. Credit: Maritime and Port Authority of Singapore
Ports of Auckland, New Zealand: zero-emissions ship handling
Ports of Auckland Ltd, whose container facilities handle more than half of New Zealand's imports and exports, has an ambitious target to operate with zero emissions by 2040.

The port operator has kicked off a wide range of initiatives to help reach this goal, including the phased automation of the straddle carrier fleet at its container terminal, which is intended to reduce carrier fuel consumption by up to 10% while expanding the terminal's annual capacity from 900,000 TEU to around 1.4m TEU.
Teething problems were reported with the new automated Konecranes straddle carriers when the project's first phase launched in November last year, but the port remains committed to automation and ironing out the bugs in the system.
Other sustainability initiatives at the port include switching the straddle fleet to more efficient LED lighting, extensive traffic and noise management measures to reduce the hub's impact on local communities, and even the world's largest soil-based vertical garden installed last year on its new car-handling facility.
The port is breaking new ground in the decarbonisation of its ship-handling activities with the order of the world's first full-scale, fully electric tugboat. The vessel, which is being built by Damen Shipyards in Vietnam and is powered by Echandia's E-LTO battery system, will muster more than 70 tonnes of bollard pull when it is delivered to the port in late 2021.
"The LTO battery system is characterised by extreme high performance, in terms of high power capacity," Echandia CEO Magnus Eriksson told us last year. "You can discharge and recharge at much higher power rates than any other lithium batteries available, and that's important particularly for these heavy-duty applications."
Damen Shipyards is building the world's first full-scale, fully electric tugboat. Credit: Damen Shipyards
Port of Valencia, Spain: regional leadership on sustainability
No port is an island (in the figurative sense, at least), and international collaboration plays an important role in setting sustainability standards and evaluating new technologies that could improve terminals' environmental performance.
The Port of Valencia, which handled 5.4m TEU and 80m tonnes of goods in 2020, has a high profile among the industry's key ports for sustainability, partly thanks to the Port Authority of Valencia's (Valenciaport) active leadership role in regional maritime environmental initiatives.
The Valenciaport Foundation co-ordinated the recently concluded, EU-wide LOOP-Ports project, funded by the European Institute of Innovation & Technology. The project brought together university groups and port authorities to share best practices and evaluate new technologies to boost the circular economy at European ports.
More than 450 ports were analysed during the two-year project. At the final conference for the initiative in December, business models were presented that highlighted ways to reduce and reuse waste in a financially viable way, from carbon capture in microalgae to circular vessel decommissioning and circular sourcing for cement production.
Valenciaport also coordinates the EU-funded Green C Ports project, which is evaluating the potential of digitisation as a means of improving sustainability at the core ports of the Trans-European Transport Network (TEN-T).

The project will see the installation of sensor networks at participating ports to gather environmental data, which will inform new analytics methods to understand the ports' environmental impact and measure the efficacy of mitigation efforts.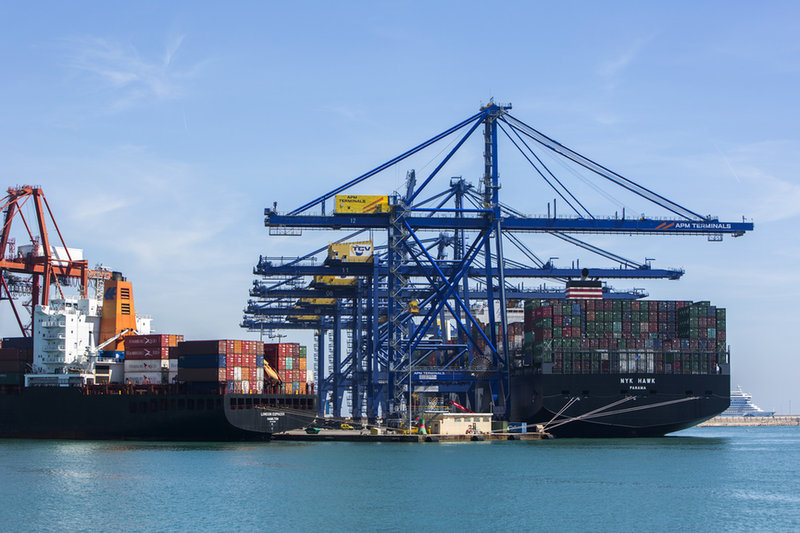 The Port of Valencia, Spain. Credit: Valenciaport
Port of Tyne, UK: partnering with clean energy
The Port of Tyne in the north-east of England has won plaudits for its environmental efforts, scooping two new clean energy awards at the Maritime UK Awards in November. The Clean Maritime Operator Award recognised the port's impressive decarbonisation efforts on its way to a goal to become carbon-neutral by 2030 and all-electric by 2040.
Electrification projects, LED lighting schemes and detailed electricity network analyses have contributed to the deep-sea port cutting diesel consumption by 260,000 litres, reducing energy use by 2.3 million kWh and eliminating more than 1,500 tonnes of CO2.
More than this, the Port of Tyne is also making a play to become a key partner for the UK renewable energy industry, as recognised by its second award in November, the Clean Maritime Enabler Award.

The port launched the Tyne Clean Energy Park in early November, having already won a contract with Equinor to be the flagship operations and maintenance base for the immense offshore wind farm development at Dogger Bank. The Clean Energy Park will build on this momentum by offering 200 acres of land to prospective clean energy tenants.
"With our access to offshore wind locations and deepwater facilities, Tyne Clean Energy Park is definitely the most versatile on the East Coast," said Port of Tyne CEO Matt Beeton in November 2020. "We've created a unique, development-ready blank canvas for renewables businesses to expand their operations and in facilitating this, we can directly contribute towards achieving 60% UK content for each wind farm developed."
The Port of Tyne, UK. Credit: Theodorie / Shutterstock.com
Port of Açu, Brazil: preparing for disaster
In the case of a marine environmental disaster, ports can play an important role in coordinating response efforts.
The Port of Açu in the Brazilian state of Rio de Janeiro decided to focus on its own environmental response procedures after a catastrophic oil spill – the exact source of which is still unknown – occurred off the coast of Brazil in August 2019. The spill affected over 2,000km of coastline across 11 states, with more than 5,000 tonnes of oil residues collected in the clean-up efforts.
As one of the main ports supporting oil exploration and production activities along Brazil's south-eastern coast, the Port of Açu played an important role in the country's response to the crisis and has taken its responsibilities further by developing detailed emergency preparedness procedures for a future spill.
The port took lessons learned from the 2019 spill response – for example, that local volunteers were not given proper guidance and initially weren't aligned with national contingency plans – and initiated a project to improve emergency preparedness.

A dedicated taskforce started daily reports and monitoring of port infrastructure and the local shoreline, as well as providing training and emergency drills for local communities and fishermen.
The project has now completed, with official data monitoring still ongoing to ensure that environmental devastation can be limited if another spill threatens one of the world's most valuable natural coastlines.
The oil spill off the coast of Northeast Brazil. Credit: TV BrasilGov