Shipping's role in Covid-19 vaccine logistics: key questions answered
As more Covid-19 vaccines clear regulatory approval, an immense logistical effort to deliver them is underway. How is the shipping industry preparing to support the global rollout of billions of vaccine doses, and what are the limits of the maritime supply chain for strictly temperature-controlled cargoes? Chris Lo finds out.
With the approvals of three first-generation vaccines against Covid-19, the world can finally see the light at the end of an exceptionally dark tunnel. With new cases and death rates from the pandemic still shockingly high in many regions, the emergency rollout of immunising jabs developed by Moderna, Pfizer/BioNTech and AstraZeneca/the University of Oxford can't come too soon.
With three vaccines launching to the market and a host of other shots moving through clinical development, much attention has turned to the logistical mountain that must be climbed to deliver doses to the communities that need them.
While air freight has been the initial focus for vaccine distribution due to its cold-chain advantages and quicker time-to-market, limited capacity – not to mention the growing list of vaccine candidates that can be transported in standard refrigerated units – means that container transport has an important long-term role to play in the supply of vaccines and associated equipment to key markets.

Here, we explore the key questions around shipping's role in the unprecedented vaccine rollout to come.
How important is shipping's role in global Covid-19 vaccine distribution efforts?
While shipping companies have been working for the last year to prepare themselves to support global vaccine distribution programmes, the exact scope of maritime transport's role in these initiatives is still something of an open question.
The vaccine rollout is an immense challenge for a logistics sector that has already been rocked by the pandemic. Governments around the world are investing heavily in vaccination hubs, as well as building and expanding ultra-cold storage facilities.
The initial focus for vaccine transport is shipping doses by air.
The initial focus for vaccine transport is shipping doses by air due to the quicker time to market and the cold storage options available in air freight, but there is still a great deal of uncertainty around the specifics of the global vaccine supply chain and the scope of the maritime industry's role.

Nevertheless, rolling out vaccines efficiently to the global population will require unprecedented international collaboration and a resilient, multi-modal supply chain.
"There is still quite a lot of uncertainty about…how the global rollout will happen and the task of mapping out capabilities is in full swing," wrote A.P. Moller - Maersk's global head of pharma and healthcare Hristo Petkov in a November blog. "There [are] no practical distribution models that exist today that can handle this mass distribution in the highest quality regulated supply chain."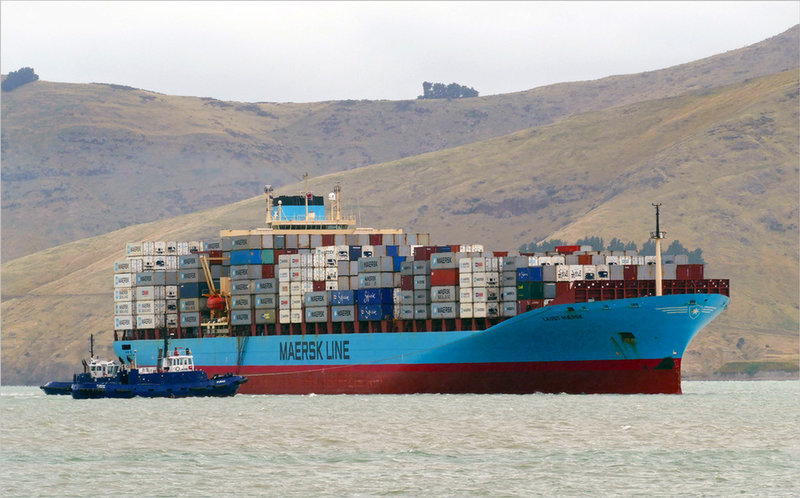 Maersk has been leading the charge on vaccine distribution agreements. Credit: Bernard Spragg
How have ocean freight groups been engaging with Covid-19 vaccine logistics?
Although air freight is bearing the lion's share of vaccine delivery duties for the three Covid-19 vaccines that are now being approved for emergency use around the world (developed by Moderna, Pfizer and BioNTech, and AstraZeneca/the University of Oxford), shipping firms have been in discussions with governments and the pharma industry to work out how they can best support these rollouts.
"The planning effort is surrounded with many speculations and high uncertainty," wrote Petkov. "The discussions span around the availability of glass vials, to required temperature ranges, distribution modes and infrastructure, serialisation issues, production capacity and Covid-19 vaccine availability speculations."
In December, leading logistics groups signed a charter with UNICEF and the World Economic Forum, pledging to help deliver the Covid-19 vaccine rollout by engaging with stakeholders, sharing assets and competencies, providing expertise to governments and supporting the distribution of vaccines and related supplies to in-need populations through the global COVAX facility for equitable vaccine access.
The shipping industry is well represented on the 18-strong list of signatories, including container giants CMA CGM, Hapag-Lloyd, Maersk and MSC, as well as key port and waterway operators such as DP World, PSA International and the Panama Canal Authority.
What vaccine-related cargo is the industry equipped to carry?
The Moderna and Pfizer/BioNTech mRNA-based vaccines require ultra-cold storage down to around -70°C, which is far colder than is achievable in the standard refrigerated containers (reefers) used in maritime transport. Reefers have a typical temperature range stretching from -40°C to 30°C.
Given the immense demands these vaccines will place on finite temperature-controlled air freight capacity, shipping is still likely to play a prominent part in the distribution of other, less temperature-sensitive Covid-19 shots.

AstraZeneca's vaccine can be stored at normal fridge temperatures, and the company is planning to produce around three billion doses in 2021, both in-house and through international manufacturing partners.
Shipping is likely to play a part in the distribution of less temperature-sensitive Covid-19 shots.
In recent months, Maersk has been leading the way on vaccine distribution agreements and bolstering cold-chain credentials in shipping to better serve the pharma industry's needs.

In December, the group signed a three-year deal to provide cold chain logistics services for Danish pharma firm Novo Nordisk, starting from 1 April 2021. Maersk executive vice president of ocean logistics Vincent Clerc described the agreement as a testament to the company's expansion as a "modern end-to-end logistics company with fully controlled assets".
Maersk will have a chance to test its logistics capabilities against Covid-19 in 2021, having signed in October a vaccine distribution agreement with US biotech firm COVAXX (not related to the global vaccine facility), whose own vaccine candidate, UB-612, is currently deep in clinical trials and also requires only standard refrigeration.

COVAXX aims to produce up to a billion doses of the vaccine in 2021, with Maersk again taking responsibility for end-to-end supply chain management.

In a post-Covid-19 world, the expectation for shipping firms to incorporate built-in ultra-cold storage and monitoring systems will only grow.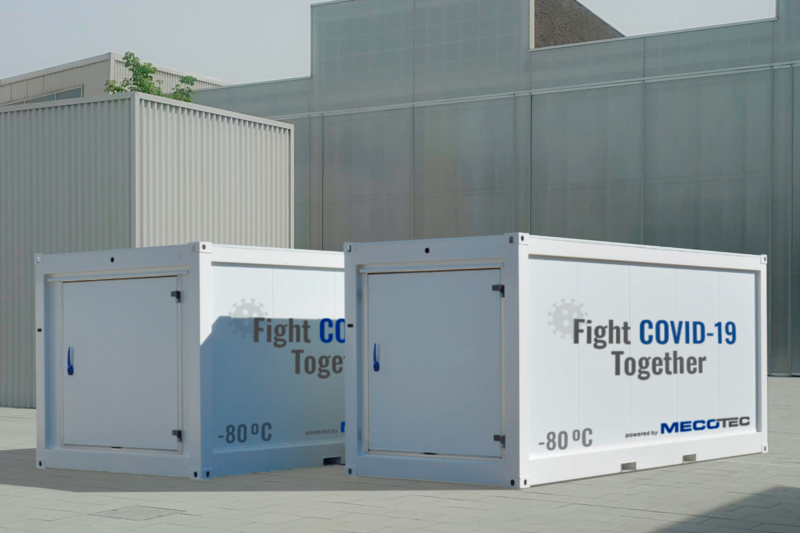 An ultra-cold container hybrid system. Credit: Mecotec Group
Will the shipping industry enhance its cold-chain capacity?
With billions of vaccine doses in need of distribution in 2021, it's little surprise that some manufacturers have leapt on the opportunity to offer enhanced cold storage options to the shipping industry and other logistics providers.
In 2020, suppliers such as Mecotec Group and L&R Kaltetechnik have launched stationary and mobile container systems that promise to maintain temperatures as low as -80°C for safe vaccine transportation and storage.
Whether these kinds of ultra-cold container systems become a feature of post-Covid-19 sea freight routes will depend on a complex pattern of demand that is still developing as the vaccine distribution challenge unfolds.

Port operators could play a valuable role in filling supply chain gaps in developing countries.
Stationary ultra-cold containers are also being marketed at shipping terminals to address warehousing shortages as supply chains work to complete the tricky 'last mile' of getting vaccine doses to their final destination at clinics and immunisation centres.
Port operators could play a valuable role in filling supply chain gaps in developing countries where cold-chain facilities may be limited or absent entirely.
On 27 January, DP World announced a partnership with UNICEF to distribute vaccines and associated supplies to low and middle-income countries. DP World will provide warehousing facilities and transhipments from the global hub Jebel Ali Port in Dubai, giving UNICEF to many target vaccination sites in the Middle East, Africa and Asia.
How can the shipping industry protect its own workforce?
Of course, for the shipping industry to play its role in distributing vaccines and ending the pandemic, companies must also be able to protect the health and welfare of seafarers and port staff.
This has been a sticking point in 2020, with 400,000 of seafarers stranded aboard ships beyond their contracts, with some stuck for nearly two years at sea, according to the International Chamber of Shipping (ICS).

Governments must class seafarers as 'key workers'.
In January, more than 400 organisations from across the supply chain and beyond issued the Neptune Declaration on Seafarer Wellbeing and Crew Change, which called for improved air connectivity at maritime hubs to assist with crew change and repatriation, as well as recognition of seafarers' status as key workers, with priority access to vaccines.
"The benefits of vaccinating those responsible for transporting the vaccine and PPE around the world should be obvious," said ICS secretary general Guy Platten.
"Governments must class seafarers as 'key workers' and give them priority access to the vaccine, as the inability to rotate crews from their ships risks the passage of the critical medical materials needed for the global vaccination effort."