- ECONOMIC IMPACT -
Latest update: 21 October
Many economists have cut their GDP forecasts. The 2020 consensus forecast for GDP growth is currently negative and many predict a recession.
World Trade Organization forecasts the volume of world merchandise trade to shrink by 9.2% in 2020 followed by an estimated rise of 7.2% in 2021.
IMF has revised its 2020 global GDP forecast to -4.4% from an estimate of -4.9% made in June.
The global economy is estimated to contract by 4.2% in 2020 and bounce back by 5.3% in 2021.
Impact of Covid-19 on equity indices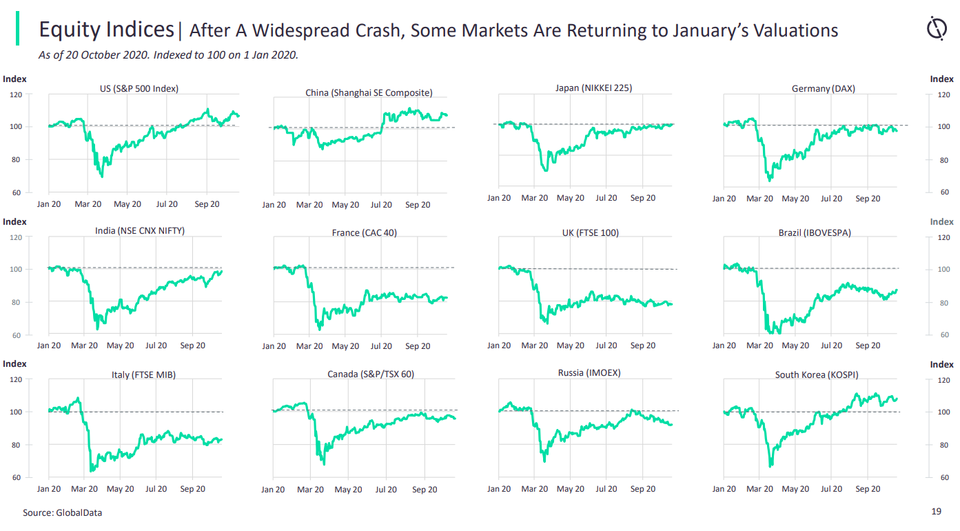 - SECTOR IMPACT: Travel and tourism -
Latest update: 21 October
International travel impact
Travellers from 36 European countries with a valid residence permit can now apply for Chinese visas at any Chinese embassy within these countries (12 August)
After resuming flights with China, Japan envisages allowing 1,000 business travellers, student and foreign residents to enter per day. (24 September)
The UK, the Netherlands, the Czech Republic and Belgium have been added to Italy's list of high-risk countries. Covid-19 tests are mandatory for travellers from these nations (7 October).
In Canada, travel restrictions on international travellers has been extended until 31 October (29 September) but borders have been opened for extended family members of Canadians from 8 October onwards (2 October).
Japan is to lift overseas travel restrictions to 12 countries including China, Australia, South Korea, Malaysia and Taiwan among others by next month (9 October).
Russia has resumed flights with Serbia and Cuba from 15 October, with South Korea from 27 September, and with Belarus, Kyrgyzstan and Kazakhstan from 21 September (19 September).
Key travel and tourism market developments